Britain has a brain drain problem: it's one of the two countries whose inventors are keenest to leave home, according to a study for WIPO, the World Intellectual Property Organisation.
The UK and Germany both have a net loss of inventors - despite benefiting from significant immigration of inventor talent from other countries.
WIPO defines an emigration rate as the share of the country's native population living abroad relative to the country's total native population. The emigration of skilled people, or the "brain drain" rate - is calculated as the number of degree-level educated nationals living abroad over the degree-level educated nationals who live in their home country.
It also examined patent databases over two decades to produce the figures. While patents aren't a perfect measure of brainpower, you have to start somewhere to produce any kind of measurement, and it's a useful proxy for the international movement of scientists and engineers.
UK inventors leaving the country constituted 8.15 per cent of the country's total emigration between 2001 and 2010. Only Germany (9.45) India (11.78) and China (15.75) fared worse in keeping their inventors at home. The UK was actually worst off of all during 1991 to 2000, with 13.11 per cent of its emigration comprising inventors.
WIPO is interested because of the negative effect on emerging countries of seeing their cleverest people emigrate. Africa and the Caribbean suffer the worst, with skilled scientific and technical graduates seeking more lucrative work in more mature economies.
As WIPO notes, "the exit of skilled workers directly reduces an economy's human capital endowment".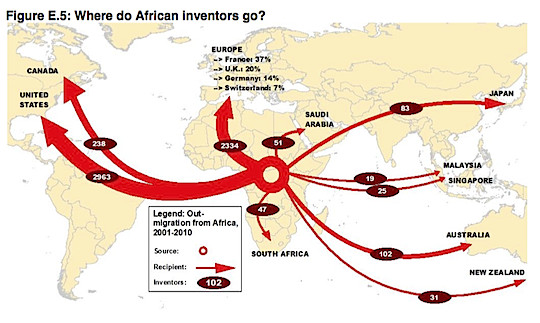 But the study also has implications for education policy here in the West. Why educate people in science and technology if other countries are going to reap the reward? We may as well train up more jugglers, bell-ringers, or barristas.
You can download the report in various languages from WIPO here, where you can read it alongside a double skinny venti nonfat organic mocha, double-blended. ®