Murdoch stands between your kids and filth with BSkyB network-level SHIELD
En garde! Smut 'n' violence be gone!
BSkyB's network-level filters are now in place 10 months after it first confirmed plans to follow TalkTalk's strategy that allows subscribers to censor large lumps of the web.
And it looks like, at least for now, existing subscribers who wish to avoid the smut 'n' security block will be unable to opt out altogether, and will have to pick a category. When we questioned a Sky spokesman about this, he helpfully suggested, "You can't switch something off until it's on."
The company, which is 39 per cent-owned by media mogul Rupert Murdoch's 21st Century Fox, said its Sky Broadband Shield would take "protection to the next level" by allowing customers to cut off access to content such as porn, self-harm and violent images on all devices connected to the network.
BSkyB has wrapped its filtering system around age verification by letting customers control settings by using what essentially appears to be a classification band.
The options offered use the same methods as those applied to movies: "PG" (under 13s), "13" (13 and over), and "18" (adults only). The ISP said it had listened to customer feedback to help it develop what categories should be blocked with Symantec.
Security firm Symantec, which severed a joint partnership with Chinese telecommunications giant Huawei last year, provided the tech to BSkyB.
The company's brand director Lyssa McGowan said: "Symantec maintains a regularly updated list of sites which we've used to help populate our categories."
She added that subscribers can easily choose to switch categories on or off based on their "individual wishes" about what online material should be censored.
McGowan said:
Customers can even make decisions about individual websites, overriding the pre-defined categories. By blocking or allowing access to specific websites, customers can have ultimate control over how they customise their filters.

Once the filters have been applied, we then need to make sure it's only mums and dads who are deciding what to filter. That's why registered Sky account holders are notified of any changes that are made to their settings - to make sure it's them, and not their kids, who are deciding what websites can be accessed.
New BSkyB customers will be notified about the filtering system upon signing up to the broadband network. Existing subscribers will also be nagged about the porn and malware blockers once they have upgraded their routers.
Expect firmware updates, then, to hit your BSkyB routers soon.
The "13" classification is now the default setting for the telco's new subscribers. But an option to turn the blocking system off appears to be difficult to find on the Sky Shield webpage.
"For new customers, the 13-rated category is pre-selected. For existing customers logging in via My Sky, no age-rating is pre-selected. So the customer will have to pick one to get it set up," a BSkyB spokesman told The Register.
He claimed that a "switch off" button was available via a "custom option", but Vulture Central was unable to magic up that setting as you can see from this screengrab: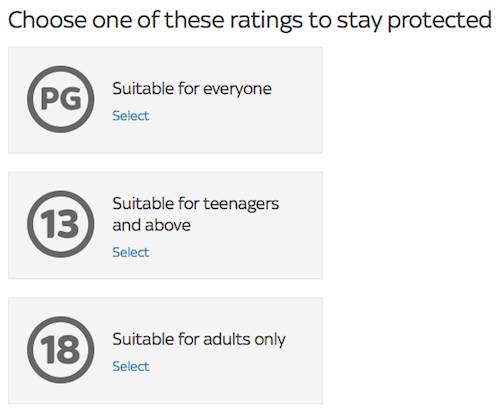 Where's the "off" button?
The company is recommending that adult-only households should - at very least - select the "18" classification. That option, BSkyB said, will protect customers against malicious or phishing websites.
At present, subscribers can use McAfee Parental Controls software provided by BSkyB to block malware and so on alongside - or instead of - the network-level filtering system. Presumably, though, the company is keen to shunt everyone over to its Shield. Such a move might keep Prime Minister David Cameron off its case, and prevent ministers from meddling with the UK's biggest ISPs.
BT and Virgin Media are also developing their own network-level filters in an industry move to prevent regulatory intervention. ®