EMC has issued its sales troops with a set of anti-Pure Storage battle cards – and Pure has responded with a blog heaping praise on EMC.
EMC's card of spoilers says: "Pure remains a constant threat as they are well capitalised and target our use cases in high performance databases, virtual servers and VDI."
Hopkinton's claims are:
Pure's controllers are active/passive. Hence, Pure doesn't scale out.
Pure [does] garbage collection processing at the controller level. This causes large I/O latency, high latency variance, and a long qualification cycle for any new SSD.
Pure uses a combination of legacy RAID5 and RAID6 (RAID3D) with very high capacity overhead.
Pure must [do] post-process deduplication whenever the array is busy.
Pure has very high I/O latency since only one controller is active and overloaded with I/Os while the other controller is always idle.
Pure cannot scale beyond one pair of controllers.
EMC also says: "Pure uses two STEC SLC drives per disk shelf as NVRAM, creating choke points for write I/Os. XtremIO uses the full bandwidth of battery-backed controller memory and has no architectural limitations."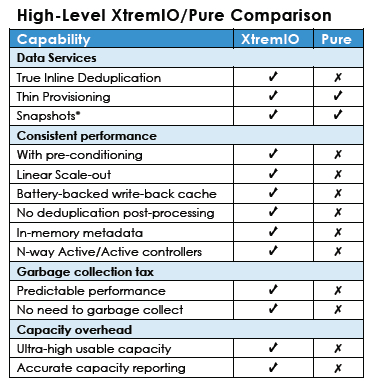 XTremIO vs Pure Storage
The battle card further suggests EMC bods get customers to "ask Pure about the limited speedup of administrative commands, such as VM cloning, with VAAI since they have not implemented XCopy. XtremIO integrates VAAI XCopy with inline deduplication and provides unprecedented speedup of routine administrative tasks."
Pure's blog, by CEO Scott Dietzen, has 10 rebuttal points after heaping praise on EMC for competing with them. Here's what he says about EMC's scale-out claim:
Pure's architecture was designed to support independent upgrades for both performance and capacity, as it is unusual for increases in each to be needed simultaneously. Pure supports adding a shelf to increase capacity at the lowest cost possible, and supports annual non-disruptive controller upgrades to increase performance (with Moore's Law). We've also designed scale-out into our architecture for tomorrow's million+ IOPS workloads. XtremIO, on the other hand, offers only scale-out, requiring an expensive controller addition for every capacity expansion, leading to higher cost, lower density, and overspending for unused IOPS.
Pure has a mickey-taking video (think US football game pre-match commentary, complete with Vaughn Stewart, Superbowl champion Harris Barton and some inexplicable football helmets) about its EMC-versus-XtremIO competition here.
Its pitch about XtremIO competition is effectively: "Bring it on and run head-to-head comparisons." ®