Acer's new Haswell all-flash Chromebooks sip power for less than $200
Low-end Chrome OS king to keep its crown this holiday season
---
As the holiday shopping season looms, Acer is once again looking to undercut the budget Chromebook market with a new low-end model that retails for $199.
This isn't the first time Acer has lowballed Google's other Chromebook partners on price. Last Christmas it rolled out the 11-inch C710, the first Chromebook to break the $200 barrier. But that model kept its cost down by shipping with a 320GB spinning-platter hard drive, a battery-sucking superfluity when running Google's cloud-centric Chrome OS.
Acer quietly swapped out the hard drive for an SSD in June, and now its newest bargain-basement model sweetens the package even further by swapping in a new CPU and adding a more generous memory option.
Like its predecessor, the new Acer C720 is no speed demon. Its 1.4GHz Intel Celeron 2955U offers roughly equivalent performance to the most recent C710's 1.5GHz Celeron 1007U.
Because the new chip is based on Intel's Haswell microarchitecture, however, users should see a significant improvement in battery performance. Acer claims it offers 8.5 hours of run time, a real boost over the SSD-equipped C710's 4 hours or the original hard-drive model's 3.5 hours.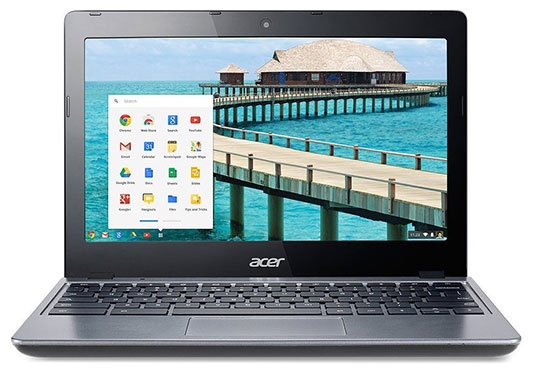 Intel's latest chips mean Acer's Chromebooks can keep their low price tags but deliver better battery life
Otherwise, this entry-level Chromebook offers few surprises. It has the same 1366-by-768 display as its predecessors, a 16GB solid-state flash drive (which is all you really need for Chrome OS), and 802.11abg Wi-Fi. Unlike the C710, it only has two USB ports, but one of them has been upgraded to USB 3.0.
One thing that is new, however, is that Acer offers a version of the C720 with 4GB of RAM instead of the 2GB of its past Chromebook models. The catch is that this model will cost you 25 per cent more, at $249.
Both models are available beginning on Friday from some US retailers, including Amazon and Best Buy, although supplies appear to be limited for now.
If you're interested in a Chromebook but would prefer something a little more upscale, however, you may want to wait a little longer. Intel says several other vendors are planning to ship Haswell-based Chrome OS devices by the end of the year, including Chromebooks from HP and Toshiba and a new desktop model from Samsung. ®