This article is more than 1 year old
India's Martian MOM lays another perfect orbital egg
Mangalyaan has almost left the nest
India's Mangalyaan Mars Orbiter Mission - or MOM as we like to call it – has laid another perfect orbital egg.
Mangalyaan is headed to Mars on a shoestring budget of just $US74m, a pricetag made possible by its plan to pinch tiny parts of Eartt's energy by dropping into our gravity well and using its rocket boosters to sling-shot 'round the other side at ever-higher speeds. The resulting egg-shaped orbits, it is hoped, will eventually see the craft speed up to the point at which it can slip the surly bonds of Terra's gravity well and head off in the direction of Mars.
Last week one of those manoeuvres went slightly awry and Mangalyaan ended up a little lower than intended. Once the rocket nozzles deemed to have been the source of that mess was sorted out a supplementary boosting burn was added to the mission. That worked and all was well.
The Indian Space Research Organisation (ISRO) now says a fifth burn has succeeded, in the following missive:
The fifth orbit raising manoeuvre of Mars Orbiter Spacecraft, starting at 01:27 hrs(IST) on Nov 16, 2013, with a burn Time of 243.5 seconds has been successfully completed.The observed change in Apogee is from 118642km to 192874km.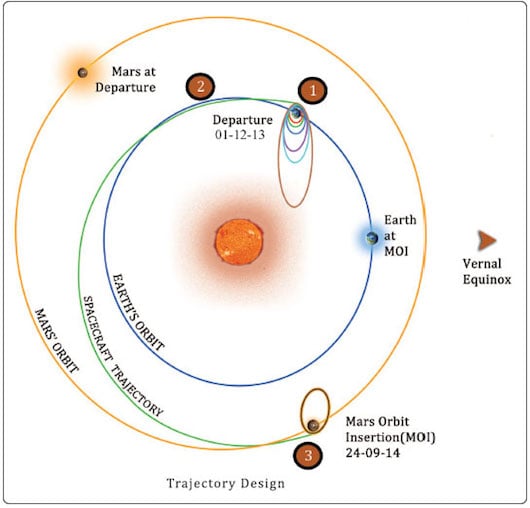 Five orbital boosts down, one to go
ISRO's mission plan called for six burns, so with the fifth one out of the way MOM looks like she's headed for Mars. Once she arrives, she'll orbit the red planet and point five instruments at its surface, the better to detect gases thereabouts. ®