Comet ISON could break up into itty-bitty pieces long before it gets closer to the Sun, selfishly denying us all the opportunity to see it shine brightly in the night sky.
The comet is currently visible in the predawn sky, but it may not be there for long if astroboffins from the Max Planck Institute for Solar System Research and the Astronomical Institute at Ludwig Maximilian University are right.
In a post on the International Astronomical Union's Comets and Asteroids Facebook page, the scientists reported spotting "wings" coming from the comet, which may suggest that the nucleus has broken up.
"The coma wings suggest the presence of two or more sub-nuclei with individual expanding atmospheres in the overall cometary coma and may indicate nucleus splitting in the comet," they said.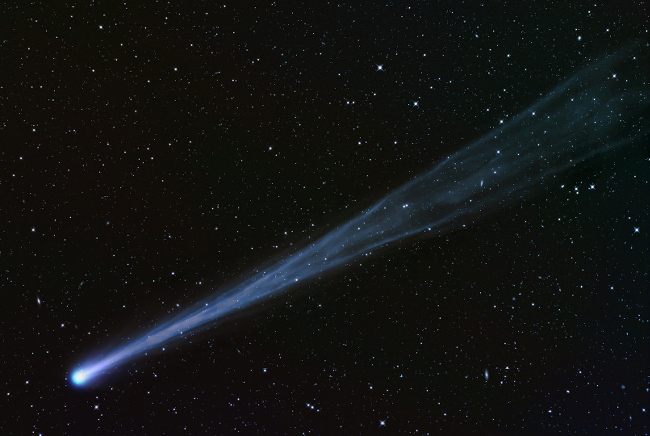 Amateur astronomer Waldemar Skorupa's shot of ISON on 16 November.
Credit: Waldemar Skorupa (Kahler Asten, Germany), via spaceweather.com
Astrophysicist Karl Battams, blogging on NASA's Comet ISON Observing Campaign, agreed that the wings could be a sign of fragmentation, but said there were other possibilities as well.
Battams reckons that the wings' symmetrical appearance counts against the fragmentation theory, since comet nucleus breakup is usually an asymmetrical event. He also pointed out that the wings could be dust emission due to jets in ISON's nucleus that had already been spotted or just solar wind ion tail structures caused by ISON running into some high solar winds, in a coronal mass ejection for example.
"If the comet has fragmented, we should see some dramatic changes in the next few days," he said. "Typically we expect a large increase in brightness followed then by a dramatic decrease in the comet's brightness in these situations.
"If instead jets are the cause, we expect the 'wings' to persist and grow. If the behaviour is driven by the solar wind then we should see continual changes as the solar wind changes."
Comet ISON will reach perihelion, its closest brush with the Sun, in less than two weeks and boffins are unsure whether it will survive its fiery pass just 720,000 miles (1.16 million km) from the surface. The comet will heat up to 2,760°C, but it's still possible for it to survive if it gets that far.
If it does survive, it will be at its brightest in the sky in early December, when some experts reckon it could be quite spectacular. ®