HAUNTED HOWITZERS, it's Call of Duty Ghosts
Plus: More Zelda and a fairy tale of New York...
Game Theory It's a final stand for the current generation of console hardware as we go on patrol with the latest release in the increasingly tired Call of Duty series, Ghosts, but have a much more entertaining time with A Link Between Worlds in the latest Zelda game, and get to grips with the Big Bad Wolf in Fables: The Wolf Among Us.
Call of Duty: Ghosts
If ever a series was frantically treading water it's Call of Duty. Ghosts represents a last shout for a game engine that should have been packed off to Eastbourne with a pipe and slippers years ago.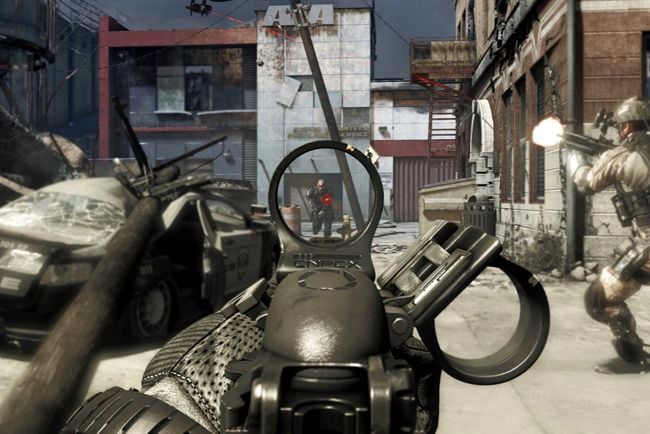 FPS: Frequently Plugged Shooter
Plainly, Ghosts offers so few new ideas that it feels like a late-night repeat show. The solo campaign might sport an original storyline that sets out to pitch you into a war-torn United States, but actually playing it is a strangely bland, unsatisfying experience, despite - or perhaps because of - the hectic shoot-outs.
Little has changed. The enemy AI is just dim, the range of environment just as limited and the ways you might approach an encounter just as finite as last time. So much so that it's hard not to point to such shortfalls as areas that are simply not good enough – and haven't been for some time.
Novelties like outer space and inner ocean scenarios, and sending Riley the attack dog out to subdue foes, might paper over some of the cracks. But ultimately Ghosts feels like a case of 'fool me once, shame on you; fool me twice, shame on me', as George Bush famously never quite managed to say.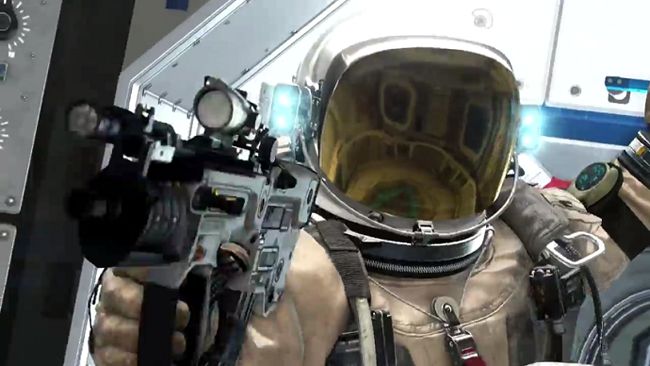 Space, man
It all gets a lot better when it comes to the multiplayer side of things, of course. Here, the ageing engine manages to keep play zipping along nicely.
Modes of play such as Cranked, Search and Rescue, Domination, and Blitz recycle online FPS stalwarts. That said, the sheer variety on show will ensure that the series' zillions of devotees will keep the servers filled for months to come.
Expect to experience combat that seems to take place in fast-forward, across maps where life is cheap and the next respawn is but a quick replay of your abrupt death away. Oh, and yes, you can take your trusty German Shepherd online too.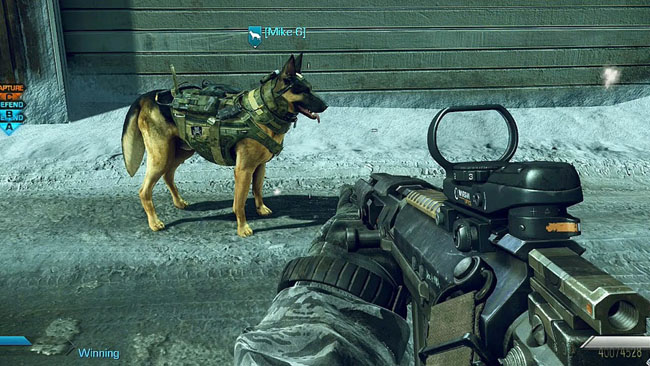 Even Sparky the Wonder Dog can't save this one
For the novice there's the option to practise with bots. Gamers looking for something completely different can take on Extinction mode. Imagine Black Ops' Zombie mode with the undead swapped for aliens, and you won't be too far away.
All very entertaining, then, but shallow, despite a vast number of unlockables designed to provide a constant stream of reasons to come back. I put it all down to the continued feeling of déjà vu.
Overly familiar gameplay is a complaint also easily attributed to Battlefield 4, of course. But the yearly cycle of Call of Duty simply makes the whole exercise feel all the more staid and its failure to develop in interesting ways even more apparent.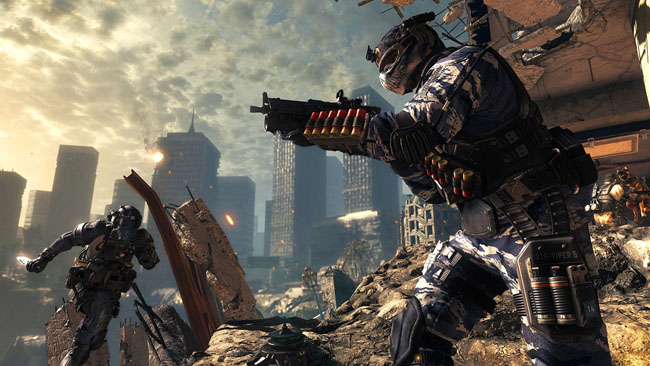 Fast-food gaming?
Buy it for its online community and its fast, frenetic and honed multiplayer gameplay. Just don't expect to see very much you haven't seen before.