The Sea Devils

Having attempted to break old lags out of Stangmoor Prison six stories back, the Master now gets to spring himself from gaol, a converted castle on the Isle of Wight, complete with colour telly and all mod cons. As the ultimate 'mod con' himself, the Master soon has the prison Governor helping him nick electronics gear from a nearby naval base in a bid to wake the titular monsters from the sub-aquatic slumber.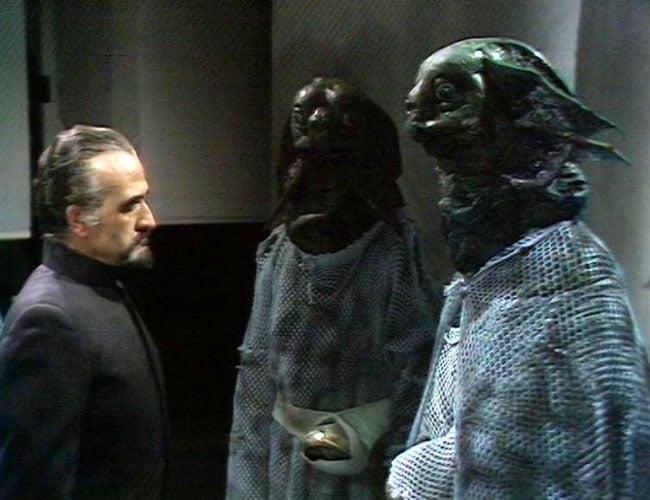 "When humanity is eliminated, you won't need to wear string vests, I tell you"
Source: BBC
Said Sea Devils are, of course, cousins of the Silurians the Doctor has already encountered in the hollow hills of Derbyshire and like them believe "man is just an ape who got above himself". Their plan? Keep thos mammalian buggers down with a few short, sharp shocks of the nuclear kind. Thankfully, the Doctor's BBC connections put him in touch the Royal Navy press department, which arranges for a flotilla to sail out in seek of publicity footage. The Master and the monsters are defeated with the help of a crew of Jolly Jack Tars in a plastic submarine. But there's no return to chokey for cheeky Gallifreyan...
Frontier in Space

If you can't plunge 20th Century Earth into apocalyptic war, try the 26th. It's 2540 and the Master is using a hypno-ray to stir up trouble between the empires of Earth and Draconia, a bizarre lizard world with a fondness for the customs of ancient Japan. Having hired a band of literally ape-like thugs from the Daleks, the renegade Time Lord begins attacking Earth ships and Draconian craft, the crews of each being brainwashed into believing they are being attacked by the other's assault squads. Soon the cry goes up on both planets: "Yes, it's WAR."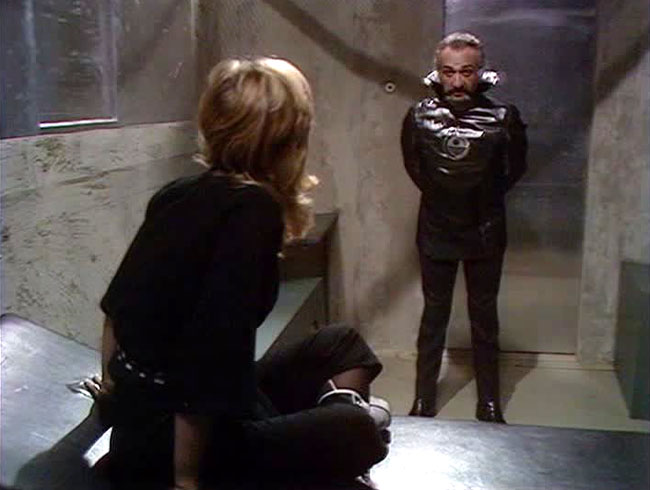 "Aren't you a little short for a stormtrooper?"
Source: BBC
Naturally the Doctor lands right in the thick of it and ends up getting locked up on the Moon Penal Colony for his unsuccessful attempts to persuade Mrs President of Earth that she's being duped by Delgado. He's rescued by, of all people, the Master, both of whom are then captured by the Draconians. Doctor san reveals the Master's machinations, leading to a reptillian reconcilliation with the Earth government.
Together both Empires launch a fact-finding mission to the Ogrons' homeworld where discover the truth. And a frightening orange duvet creature. Fed up after yet another failure and with being forced to work with animals and Mark III Travel Machines, the Master clears off, never to be seen again. At least not for four seasons.