Hey! You! Get outta my cloud says Google with balloon broadband patent
Don't hang around Chocolate Factory's WiFi-over-balloon tech, 'cos two's a crowd
Google has filed a patent application to make sure nobody else crowds the skies with high-altitude balloons carrying wireless broadband kit.
Its filing published November 14, Balloon Clumping to Provide Bandwidth Requested in Advance, covers projecting a change in bandwidth demand; repositioning a Project Loon balloon or balloons into position, and using them to deliver capacity to the "specified area during the specified future time period."
Just in case anyone else floats the idea of balloon broadband for natural disasters, Google's patent filling says that a projection of bandwidth demand could be made on the basis that "a natural disaster, an event, [or] a historical record of bandwidth demand".
The patent application at least gives us an insight into the kit that Mountain View wants to dangle underneath its great big bladders in the sky: optical and RF communications with the ground (so nobody can patent-dodge using free-space optics), battery and solar power, a computer system, and of course a positioning system.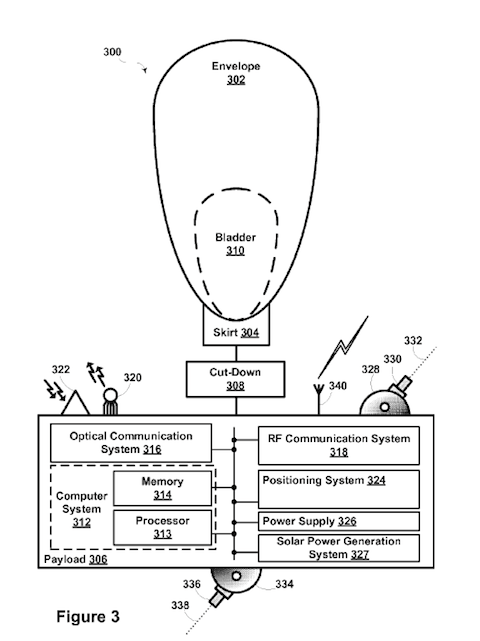 Loon balloon
The Loon balloons will have a three month lifetime, after which they would, Google hopes, return to Earth in a spot sufficiently convenient that the hardware can be recovered.
While commonly thought of as a WiFi-in-the-sky project, Google's Project Loon page still describes the project as using "specialised" RF technology in the ISM bands.
As noted over at Hot Hardware, the patent's inclusion of "broadband for events" provides a hint at how the humanitarian aspects of Loon might be funded: charging impatient visitors to crowded events who don't mind paying a premium to get away from overcrowded carrier networks. Think of Loon as an Ṻber for Instagramming hipsters. ®