This article is more than 1 year old
Arista wants Cisco Catalyst 6500 scalp. Price on head? $35bn
Storm clouds gather over key Cisco switch franchise
This month has been a biggie for data networking launches, with Cisco uncloaking Application Centric Infrastructure - its answer to the software defined network (SDN) - along with the new Nexus 9000 switch series. (My colleague Jack Clark has penned a fine analysis of Cisco's ACI strategy here.)
Also in November, Arista Networks, the upstart contender to Cisco's switching crown, made its play for the volume market with the Arista 7000x series. With this launch, the company is gunning hard for smaller data centres – organisations with up to 2000 servers. That is Cisco Catalyst 6500 series territory, which is very big business indeed.
The Catalyst 6500 made its debut in 1999 and remains a huge revenue generator for Cisco. According to this analyst paper by Nicholas Lippis III, published in December 2012 on Cisco's website, the 6500 series has delivered "more than $45bn cumulative revenue for Cisco, thanks to its large footprint of close to 800,000 systems, 110 million ports shipped thus far to some 45,000 systems". Market share is more than 20x higher than that of the next biggest supplier, Lippis writes.
Critics say the Catalyst 6500 architecture is old, slow and power-hungry and today's installed base, sitting on $35bn-worth of kit, is ripe for change. But Lippis forecasts the platform should be around for a "very long time as Cisco continues its major investments in product development and support strategies".
White box, white heat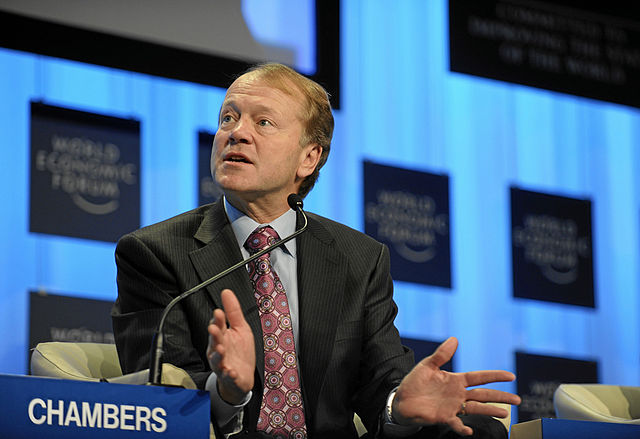 Cisco's John Chambers: White box vendors are biggest competitive threat
Nonetheless, Cisco is keeping options open. According to Network World's Jim Duffy, Cisco is prepping an aggressive Nexus 9000 series technology migration program "aimed at the Cat 6k in end-of-row data center deployments".
As the incumbent, Cisco should be considered favourite to retain the lion's share of Catalyst 6500 replacement business, if and when clients upgrade to new platforms. As Jim DeHaven, Cisco's head of data centre and virtualisation in UK and Ireland, told me, customers will continue to plump for a company with a "strong pedigree for innovation and quality". Translate that as: companies will do business with a vendor they know and trust.
But the switching market has changed radically in recent years: in many sectors switches are commoditised – with cloud service providers especially plumping for white box vendors. Facebook, for instance is promoting this no-name trend to the world at large through the Open Compute Project. In September 2013, Cisco CEO John Chambers cited white box vendors as the biggest competitive threat to the company.
Cisco also has a new brand-name rival on its doorstep in the guise of Arista Networks, which is touting cheaper hardware, built using merchant silicon as opposed to in-house custom asic chips (Cisco's historic favoured approach), a single networking operating system (EOS) and deployment in flatter network designs.
Latent appeal
Founded in 2004 by Andy Bechtolsheim, David Cheriton and Kenneth Duda (and self-funded by the first two) Arista launched its first product family in 2008, the 7100 series of datacentre Ethernet switches.
Early customers for the Silicon Valley firm's fast low-latency switches included federal supercomputer agencies and from there the base fanned out to commercial HPC shops, such as the trading desks of investment banks, who play with high frequency low-latency trading. From thence to ultra-scale data centres and cloud service providers. Arista switches are also included in SAP HANA appliances and EMC Atmos installations.
So Arista is on a roll, but business is puny compared with Cisco's switching sales. Publicly, Arista is quoting $200m annual revs and 2000 customers – although that figure appears to be one-year-old and so is out of date. We anticipate revs will be at least $500m by the time the company goes for IPO, which could be as soon as 2014, valuing the company at $2.5bn.
But to maintain momentum, the company needs to be in the volume market, and this is where the 7000 X series fits in. The company now has what it calls a "lift and shift" product to offer Catalyst 6500 accounts.
Arista is all about speeds, feeds, low capex and opex, and, to facilitate software defined networking, as this slide below shows, best-of-breed partnerships.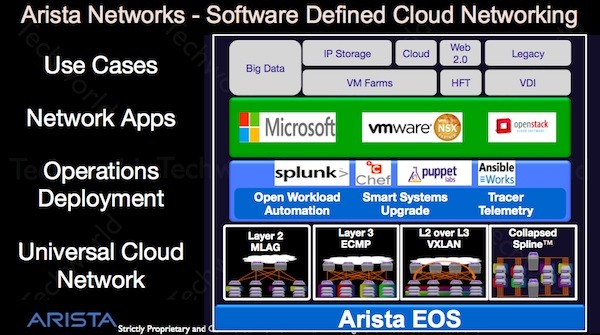 This approach gives Cisco a line of attack for Arista – as well as white box switching vendors, who build "cheap hardware where all the intelligence is delivered by partners ... leaving the network overlay to third parties," says DeHaven. This delivers a fragmented infrastructure, complexity and expense - not to mention the "virtualisation tax", he says.
With ACI, Cisco is building many software-defined functions into the chips, and is using – for now – merchant asics brought in from Broadcom. DeHaven says this "merchant-plus" approach enables the company to offer lower prices than a software-only stack.
ACI's hardware defined networking is, Doug Gourlay, vice president of systems engineering at Arista and one-time Cisco exec, retorts, the "most proprietary framework since the mainframe".
So what? says Joe Onisick, of Insieme, the Cisco spin-in that designed ACI, on our Speaking In Tech podcast: "Maybe we are doing hardware-defined networking ... but if I can put that same box with better performance and better programmability in your data center, cheaper than a white box out of Taiwan, do you care?"
Switch bitch
Cisco will find out soon enough when the Nexus 9000x sales figures start coming in – but we know that Cisco reps are bullish about this new product line – "The most exciting thing in years", a senior sales exec told me.
Of course, success for Cisco does not mean failure for Arista. Arista will no doubt be happy to cement a position as the second biggest switch player – and of course, Cisco likes having point product competitors, as opposed to, say, Huawei, which fights on all fronts.
Most of all, Cisco would much prefer to have Arista as its biggest switch rival than "white box others", as this would mean that enterprises are buying into its value-added hardware defined networking proposition, even as they shift their equipment spend to the cloud. This will not bring back those, like Amazon, who have already got away. ®