What took you 2 years? LSI finally rolls out next-gen SandForce kit
Drawn-out dev cycle after acquisition
LSI has finally brought the drawn-out development process for the next generation SandForce controller to a close. It now has third-generation controllers supporting four times bigger flash drives and both PCIe and SATA interfaces from a single ASIC. Bye-bye SAS.
LSI bought SandForce for its controllers two years ago. These controllers maximised the working life and performance you could get from cheap but slow and relatively short-lived MLC (2 bits/layer) flash compared to gold standard of flash, SLC (1 bit/layer) and SSD builders who couldn't build their own controllers lapped them up.
SandForce introduced its gen 1 controllers in 2009 and the second generation - SF-2000 line - in October 2010. This was the generation on sale when LSI bought the company in 2011 and it is now three years old, an age in flash development terms. What's new?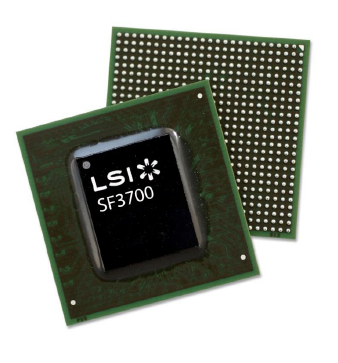 The SF3700 takes the SF-2000's SAS and SATA interfaces and PCIe via a 3rd party bridge and provides SATA and native PCIe from a single new ASIC. Bye-bye SAS. The new controller ups the maximum flash drive size from the SF-2000's 512GB to 2TB. It increases the RAID-like RAISE (Redundant Array of Independent Silicon Elements) protection technology to provide a level 2 which protects against "Multiple page and block, and single die" failures.
The SF3700 supports smaller flash geometries than the second gen controllers and LSI has comparison charts showing an SF-3700 256GB PCIe flash card out-performing a 512GB Samsung XP941 on both random and sequential reads and writes.
Samsung's 840 Pro SSD (SATAX256GB MLC) blows it away on random writes (78,000 vs 46,000) but LSI's SATA SF3700 (256GB MLC) returns the favour with interest on random reads (94,000 vs 3rd party reviewed 91,000), and sequential reads (550MB/sec vs 413MB/sec) and writes (502MB/sec vs 373MB/sec).
LSI says write endurance and error correction have been improved, although LSI doesn't give out any endurance numbers for specific flash geometries.
There are four products in the SF3700 family:
SF3719 entry client
SF3729 mainstream client
SF3739 enthusiast client and value enterprise
SF3759 enterprise caching and enterprise storage
There is more background info on LSI's SF3700 development on Zsolt Kerekes' Storage Search website.
Get hold of a background briefing slide deck here (PDF) and an SF3700 enterprise product brief here (PDF). OEMS are sampling and qualifying SF3700 now and products using it ought to appear next year. ®