Key issues
The first thing I noticed was the dim screen on Windows 8.1, apparently I wasn't alone with this problem as none of the slider controls or function keys had any effect. The suggested fix was to go into PC Settings > PC and Devices and disable the automatic brightness setting. That sounded easy. Shame it didn't work, though. I rebooted into Mac OS X (remember that?) and turned off the auto brightness there too.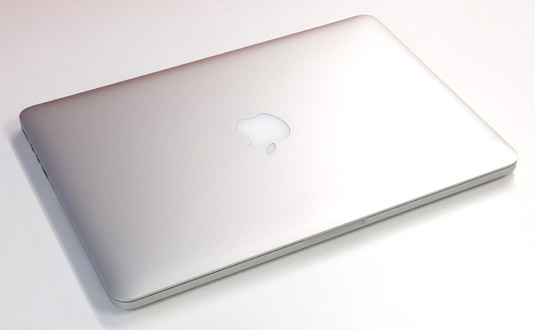 If it wasn't for the MacBook Air's distinctive taper, you'd be hard pressed to tell the two apart
Rebooting into Windows 8.1 showed this didn't make but I noticed a few updates were available from Microsoft and gave these a spin too. Somewhere along the line, with various reboots in between this scenario healing itself and the screen brightness was adjustable from the usual controls. Oh and just to finish off, the MacBook Pro 13in RD best PCMark 8 score was 3184 in Home mode and 3684 in Work mode.
There is a certain level of consistency with the keyboard layouts on Macs enabling fairly seamless transitions from Mac desktop to MacBook of any description, but I must admit I found the keys on this MacBook Pro to be a bit of a jolt.
Everything was where I expected it to be, but the feel of the keys was different. Some of the key caps felt a bit loose on their sprung mountings – causing a slight clatter on specific areas of the keyboard – and the springiness itself seemed rather on the soft side too. You get used to it but it the travel of the keys does seem oddly different.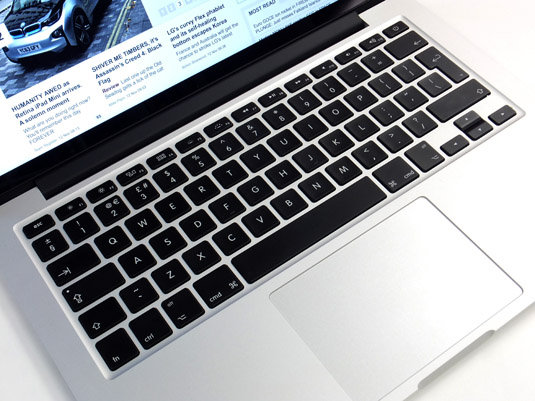 Keyboard caps have a bit of lateral play in them
Still, on the plus side, the keyboard is backlit. In subdued lighting, I really find it difficult to use a laptop without this feature, particularly if the key legends are understated. Indeed, it's so often during the evening that many an hour on a computer goes by. And for such activities from – surfing on the sofa to bedtime browsing – Wi-Fi is all-important and I have to say that the reception on the MacBook Pro 13in RD beats any piece of kit I've used of late.
I've a few Wi-Fi dead spots in my home that I'm less than pleased about and yet the MBP 13in RD stayed tuned in wherever I went with it. Although I didn't have an 802.11ac access point to test it with, it certainly has the edge in conventional set-ups.
Much like the MacBook Air, this model runs quietly having everything tidied away inside where you can't do anything serviceable with it. Running silently most of the time, it gets away with just one fan, helped by the fact that there isn't a discrete GPU option on the 13in range. It would get warm from time to time, but not hot.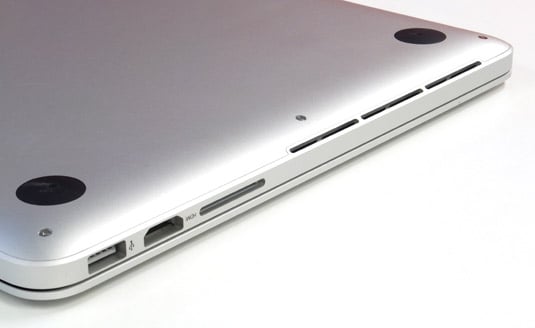 Venting helps with the audio output: HDMI, USB 3.0 and SDXC card slot
There are vents along the base edge where the screen meets the keyboard in traditional Unibody style, and in also in underside that enable the speakers in the front corners to channel sound out through them. The speakers are typical Apple MacBook Pro being better than most you'll hear on a laptop being clear, not too harsh but not exactly gutsy.
Similar topics