Putting on a display
Just relying on the Intel IRIS 5100 integrated GPU doesn't seem to be a major obstacle. Any one of the the two Thunderbolt ports can be hooked up to a monitor using DisplayPort or an adapter. You can't use both for displays however the HDMI connector will support an additional monitor to be attached enabling three screen viewing.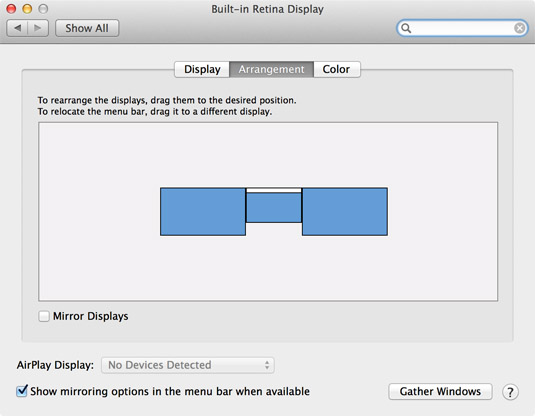 Desktop expansion display layout preferences:just drag the screens to where suits
I gave it a try in both mirrored and extended desktop modes using two 1080p monitors. I couldn't resist hooking up a projector as well to the second Thunderbolt port to see if it would work, but somewhat predictably, it didn't. There's a bit of tweaking involved for mirroring and preferred scaling for extended desktop use. This Apple tech note goes over some of the options.
Multiscreen mayhem aside, the Retina display is a bit of a mixed blessing. Its native 2560 x 1600 resolution scales to cram more desktop real estate into one screen. The "looks like" options are: 1024 x 640, 1440 x 900 and 1680 x 1050. All very useful and the resolution in Retina mode looks very good, but I'm not convinced that it's as special as some suggest. The upscaling of lower res content can produce some nasty visual artefacts, so that image I'd cropped and sized for this article looked worryingly bad compared on the MBP 13in Retina Display compared to the iMac screen they were edited on.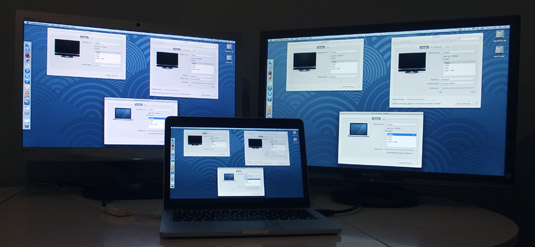 Display mirroring with two additional screens
Apparently it's just one of those compromises you need to take into consideration and yet I find this what-you-see-is-not-quite-what-you-get situation a tad unsettling. Another thing I'm slightly uncomfortable with is the screen tilt. If it could just go back another inch or so it would be fine, but at times it proved just a bit too upright.
The screen could be brighter too, but maybe the intensity has been choked to save battery life. Still, it was bright enough to battle with use in direct sunlight, the biggest gripe here being the glossy finish to the screen. It's not as bad as some but unsightly thumb prints now adorn the glass on the black borders. So when you do use it for Windows 8, this grubbiness might fool some into thinking it has touchscreen.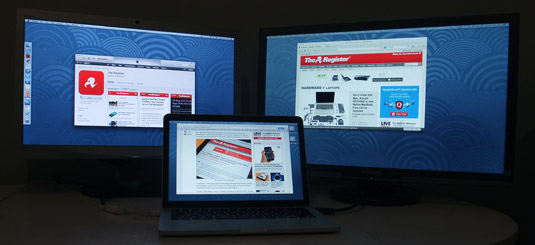 Desktop expansion with two additional screens
Now, as my regular MacBook Pro experience remains rooted in 2009 for now, I should at this point be moaning about the loss of FireWire and the PC Express card slot, but I'm over it. Most of the FireWire storage kit I own has a USB 2.0 alternative. I do use the PC card slot with a Sonnet Tempo eSATA card but having worked with Thunderbolt on various Macs that have come and gone, I'm quite keen to make the switch.
That said, as a safeguard for when one or t'other interface loses favour, I would prefer it if Thunderbolt drive vendors included USB 3.0 on this kit too. A few do, but most don't. Elgato's new and eyewateringly expensive Thunderbolt Drive+ also features USB 3.0 along with an optimised 256GB or 512GB SSD and I was hoping to do some testing with it. Alas, I'm still waiting for that to show up.
Similar topics