Where's the Pro in MacBook?
Still, I did have the Elgato 120GB SSD predecessor handy and gave that a try. A 2GB .mp4 file took just under 10secs to copy from the drive to the MacBook Pro 13in and going the other way was 26secs. Copy time for disc images was fairly even in both directions with 1GB taking 4.5secs and 10GB just under 40secs with transfer speeds peaking at around 331MB/s. To think I used to feel smug getting 80MB/s from my eSATA card using HDDs.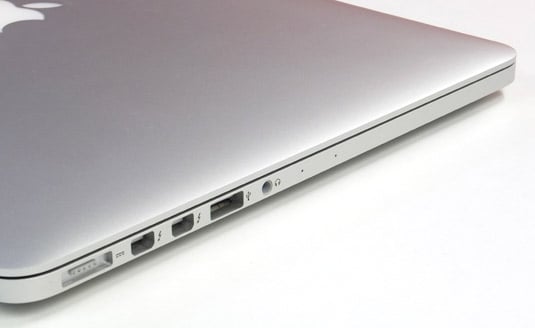 Two Thunderbolt ports, yet just two USB ports in total – are we really expected to buy hubs?
Admittedly these tests don't reveal the full 20Gbps potential of Thunderbolt 2, as the Elgato drive functions as a 10Gbps Thunderbolt 1 device and the SanDisk SSD inside it is only SATA 2. Even so, when it comes to swapping files between internal and external SSD storage devices, there's little to complain about regarding speed, with native drive performance apparently the only bottleneck here.
Talking of speed, the best boot up time to the desktop I saw was 9 seconds although with repeated stopwatch tests it was typically around 14 seconds, saving a couple of seconds if just booting to the login screen. Wake from sleep is active before the lid is fully open, saving even more time. The performance on Windows 8 is impressive with a boot to login typically taking 7.5 seconds.
PCMark 8's battery life tester reckoned on 3hrs and 30mins which seemed somewhat unforgiving as I managed to get through a working day on battery alone with the screen slightly dimmed and set to sleep at lunchtime. Apple claims up to 9 hours which is probably manageable with some tweaks. Incidentally, PCMark 8 consistently gave results of around 24.8fps for 'casual gaming' which should be enough to get by on.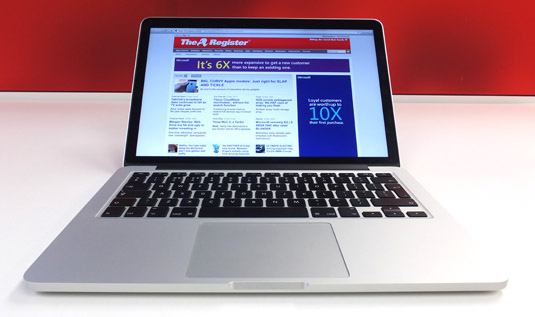 For Mac users upgrading means a new machine rather than simply RAM and storage
The Reg Verdict
All in all, the MacBook Pro 13in RD is fairly decent machine in terms of performance, but I'm not convinced that this form factor is appropriate for the Pro moniker. Pro suggests it's for folk who know what they're doing and do pros really want to buy into something that's about as upgradeable as a mobile phone?
Pros might also expect more than two USB ports, especially as there's no Ethernet port on board either. Three, four USB ports? Come on Apple, just how hard would that be?
As for the Retina display, I can see how this works nicely on a tablet, but I'm not so convinced you're going to be so wowed by it at arm's length on a laptop. Sure it has great contrast, sharp text and decent viewing angles but how much good is that going to do you when OS X Bohemians or whatever it'll be called comes out and your key apps start to grumble about the 4GB of RAM?
I remember when the first candy coloured clamshell iBooks came out and there were moans that there was no FireWire, around that time the iMac puck mouse wasn't winning many friends either. During the Paris Expo 2000 keynote Steve Job unveiled FireWire iBooks in response to customers' "Number one requested feature".
Evidently, the company was listening to its users back then. Will Time Cook's Apple be listening to make some crowd pleasing changes? We might be surprised, but in the meantime, don't hold your breath. ®
Steve Jobs' keynote presentation at the Apple Expo Paris 2000. The iBook fun starts at 3mins 8secs
Thanks to Square Group for the loan of the MacBook Pro 13in RD.

Apple MacBook 13in with Retina display
Entry level Retina Display 13in MacBook Pro with a 4th gen 2.4GHz Intel Core i5 CPU, 4GB of RAM, 128GB SSD and featuring ThunderBolt 2 interfacing.
Price:
£1099 (4GB RAM, 128GB SSD) RRP
Similar topics