Feature Readers of The Register with their fingers on the throbbing technopulse of innovation will have noticed that - if the hype is anything to go by - 3D printing is about to redefine paradigms, rewrite/defenestrate/burn textbooks and give the unwashed masses the power to print iPhone covers at will, thereby shaking the whole notion of industrial manufacturing to its very foundations.
Lest there be any doubt that the technology is the future right now, if not sooner, we recently received a press release with a faint whiff of joss-stick trumpeting three forthcoming "design jams" organised by London Creative and Digital Fusion, and designed to "help create innovative ideas to enhance cities and the lives of their residents".
London Digital and Creative Fusion's Andrew Sirs-Davies said: "3D printing is at the forefront of what people are increasingly describing as the third industrial revolution."
Whether or not the 3D printer is the spinning jenny of the 21st century remains to be seen, but it's currently parading atop a bandwagon onto which world+dog are eager to jump.
A quick trawl of El Reg's recent 3D output reveals that Dixons, HP, McDonalds and Microsoft are keen to get their necks into the trough.
Hungry channel suits have been advised to fill their bellies at the 3D buffet, while across the Pond, US outfit Makerbot is eyeing a world domination plan to get its "Replicator 2" into schools, in order to "change the whole paradigm of how our children will see innovation and manufacturing in America".
All well and good, although the current state of small "domestic" 3D printers shows there's a way to go before you can print out granny's titanium hip replacement in your bedroom.
Nonetheless, there's a plethora of people hoping to convince punters they really can't live without their very own home manufacturing unit. For example, try the $395 Portabee GO thermoplastic extrusion device, described as "portable, sleek and robust":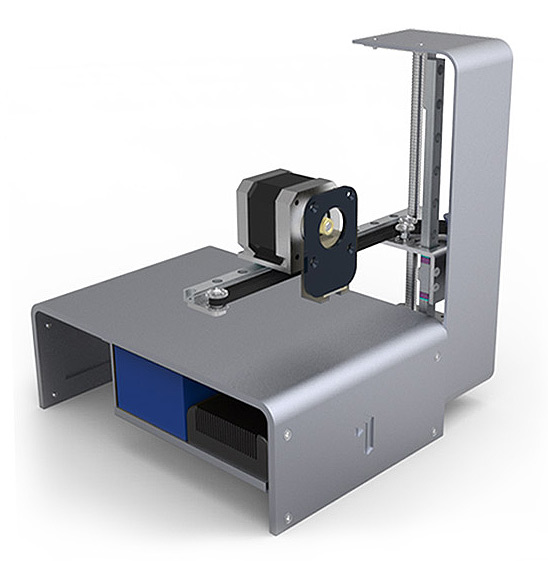 Down at Kickstarter, meanwhile, Rinnovated Design recently raised a whopping $651,000 to fund the $100 Peachy Printer, described as "the world's cheapest".