This article is more than 1 year old
Prime Minister David Cameron in Twitter gaffe
You won't believe what Cam's gone and done this time
Prime Minister David Cameron has committed yet another Twitter gaffe after following a high-class escort agency on the social network.
Using his official account, @Number10gov, the Prime Minister keeps up to date with the goings-on at Carltons of London, which bills itself as a "high class escort agency". Its gallery shows a number of beauties shot in black and white, with prices printed beneath.
The women can be seen for prices of up to £800 an hour, which would seem expensive to most people outside the Bullingdon elite.
To be fair to the PM, the escort agency's Twitter account appears to have been used just twice, although that may be because anyone seeking the services of a super-expensive call girl might not want to tell the world about their proclivities.
It was likely that whoever runs Cameron's Twitter account was probably looking to follow the Carlton Club, which bills itself as the "oldest and most important of all Conservative clubs".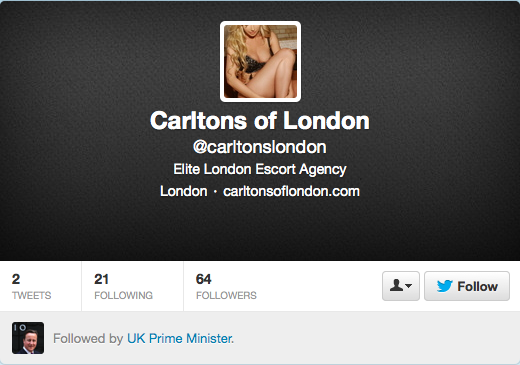 Cam here, big boy: PM follows 'high class escorts'
El Reg phoned the number on Carltons of London's website and were greeted by a lady with a plummy accent. The woman at the other end of the phone was initially quite friendly, and told your intrepid reporter she was 67 years of age. But she later clammed up when asked about escorts and denied having anything to do with the Prime Minister.
"I think there is a wrong number out there," she said. "We sometimes get very lewd calls, which are very rude indeed. I don't know anything about the Prime Minister or Twitter."
We also tried to contact the press office at Number 10 Downing Street, but they have not yet responded.
Cameron has made a number of Twitter cockups. His most recent gaffe came when he marked as a favourite an offensive comment posted after the Kenyan terrorist attack which read: "David-Cameron please call off William Hague, hasn't Kenya suffered enough today?"
As Cameron once famously said: "Too many tweets might make a twat."
Carltons of London was in the news back in 2011 after it was alleged that Maria Fowler, one of the stars of The Only Way Is Essex, used to work there. Fowler insisted she had been tricked into signing up to the company and had left the moment she realised what its actual business was. ®