Doctor Who @ 50 No robot in TV history has enjoyed such renown as K-9, the loyal robotic mutt who was the Fourth Doctor's companion for a chunk of the late 1970s and early 1980s.
K-9 provided nit-picky comments and generally useless bits of information while serving as a foil for a rather ebullient doctor on their travels. It was so popular there was a massive campaign to keep him on the show when producers planned to drop the character. And the digital doggie earned not one but two spin-offs: K-9 and Company and K-9.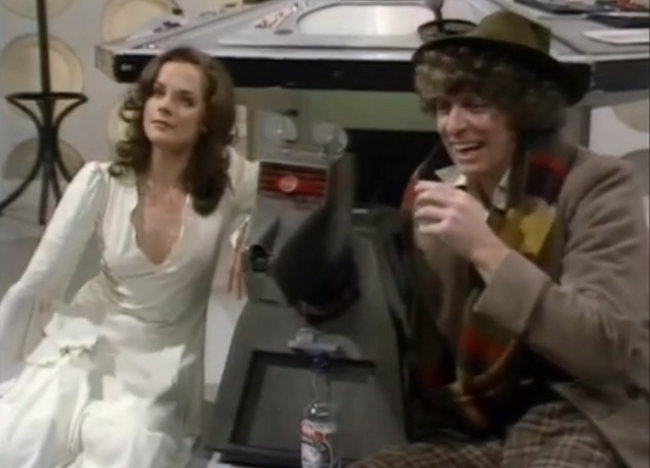 Now that's what I call a companion: kicking back with K-9
Source: BBC
What made K-9 such a clever invention was the creator's take on one of the oldest relationships in history: a dog and its master, friend and companion. A talking computer from the year 5000, K-9 also emulated biological dogs' well-recorded characteristics of powerful eyes and hearing with a telescopic eye probe and rotating ear sensors. K-9 also packed a laser in his nose, proving this dog's bite was considerably worse than his rather high-pitched, pedantic bark.
Yet, even K-9's fans would admit their beloved robot was a tad clunky. It was a vision of what the show's creators in the 1970s, working on a low BBC budget and without CGI, thought the future of animal companions would look like. Until the introduction of K-9's ability to fly, the Doctor's canine companion was second only to the Daleks in his inability to cope with any random step or set of stairs thrown across his path. He too got around using a set of wheels.
Fast forward to 2013 and robotic companions have evolved considerably in the past 30-odd years, right?
Robots at home and work
Robots are certainly more widespread today than they were in K-9's time: from manufacturing to the home, systems are building products, cleaning our homes and driving our cars. Never have they been easier to purchase or use.
But while the robots are technologically complex and offer a wider range of features, they haven't evolved to that level of camaraderie K-9 had, let alone his wicked sense of humour or encyclopaedic mind.
Even in his poor mechanical state, K-9 elicited qualities of a true friend that trump those of perhaps one of his best facsimiles to date — the Sony Aibo, a robotic dog companion-cum-toy introduced by the company in 1999 but discontinued seven years later.
Aibo was one of the earliest examples of robotic artificial intelligence in a consumer product, simulating many canine characteristics. But Aibo didn't cut it as a K9-style companion.
"Yes, Aibo wags his tail, twitches his ears, gives a little sideways look — but it doesn't do it in relation to you," says Nic Hewitt, head of creative marketing for JustSearch and who also co-runs a Doctor Who podcast called The Dirty Whoers. "He's not a companion. That's the difference with what our vision of robots are. They should be companions — a part of our lives and not an accessory to our lives. I don't think we have that now with anything."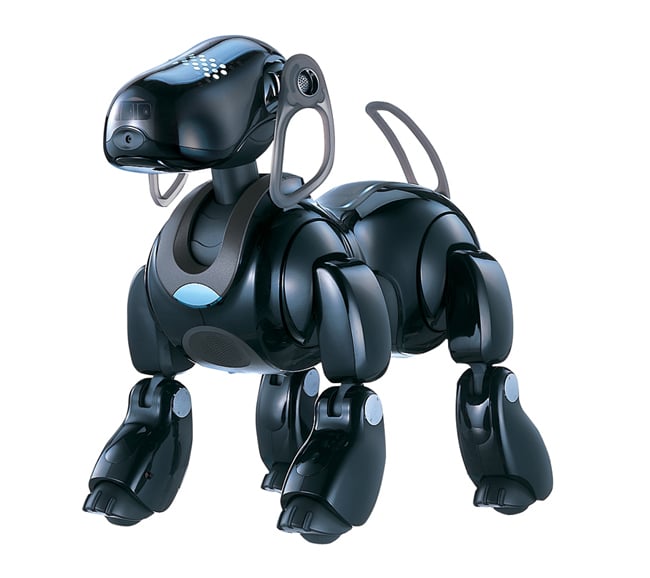 Sony's dead digital dog, Aibo
Hewitt's sentiment is mostly true, but robot fans and futurologists take heart: scientists are still trying to crack the nut of robotic companions. And there are two schools of thought at work.
In one group, researchers are using animals as models for robots, borrowing their movements, behaviour and physique. The second group of boffins are trying to create companion robots for both the home and the workplace that can live and work alongside humans, providing help where help is needed in tasks that robots can do better than their flesh-and-blood counterparts. In this group, people rather than animals are the model.
While Aibo provided a robotic pet for the home, there now is a bigger and more complex robotic dog that's been designed for the military that may still not yet have K-9's charm but can do a lot more heavy lifting — literally.
US robotics firm Boston Dynamics — working with the Defense Advanced Research Projects Agency (DARPA) — has created BigDog, a four-legged robot that, at about a metre in height and length and weighing in at about 108kg, is roughly the size of a large mechanical bull.
Similar topics