Animal inspiration
Rather than an amusement for patrons of cowboy bars, the robot is meant to be a companion for soldiers in the field as a Sherpa of sorts, lugging gear across difficult terrain to relieve grunts of the burden of schlepping so much weight on their backs, says Marc Raibert, Boston Dynamics' Chief Technology Officer.
DARPA and Boston Dynamics began designing BigDog - which recently morphed into its second iteration, AlphaDog - several years ago, inspired by the idea of creating something mechanical that, unlike a military vehicle, could traverse land that is typically only accessible to humans or animals walking on foot.
Dogs, like goats and mules, are good models for these types of robots because of their excellent mobility and strength, Raibert says. "A key goal of our work is to build vehicles that can go anywhere a person or animal can go."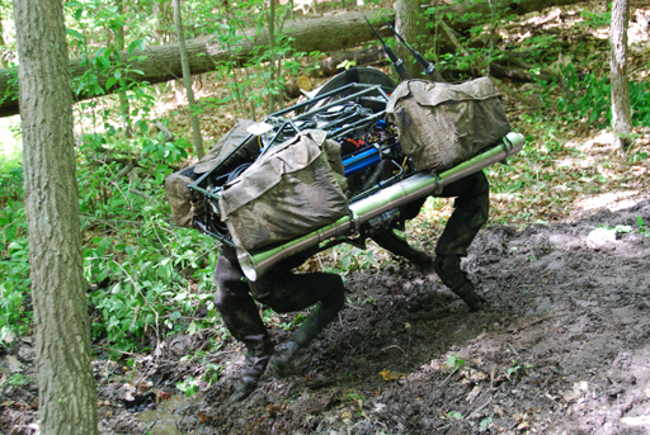 BigDog: DARPA's take on K9 is functional but not so cuddly
"Such systems could be useful to anyone working outdoors by providing a mechanised means of carrying loads in rough terrain. Right now, firefighters, emergency response personnel and soldiers are limited to what they can carry on the backs, with no means of using mechanised transport in any but the most benign terrain."
BigDog, like his animal counterparts, can even take commands from a master - in this case, a solider, and will stay alongside him in the field, much like a pet dog walks alongside his human master. This and other types of canine movement also make dogs good models for robots, Raibert says.
"The reason we study animals when designing robots is that they have mobility, agility and dexterity using their legs and arms that far outstrips what existing robots can do," he adds.
"So we hope to use animal methods to make robots better. One aspect of the animal methods, in addition to using legs for locomotion and arms for manipulation, is their reliance on dynamic balance and controls is an integral part of their behaviour."
BigDog is powered by a one-cylinder, two-stroke engine capable of running at 15 horsepower. On-board systems comprise the QNX real-time operating system running on a Pentium-class CPU with software written in C++, all of which runs controls, sensors, systems for data collection, communications and power distribution.
Walking the dog
To control the robotic beast, a human operator uses a control unit that communicates over 900MHz radio with the robot. This provides high-level steering and speed input and also allows the operator to tell the robot to start or stop its engine, as well as perform a variety of movements, such as standing up, squatting down, walking, trotting or jogging. However, BigDog's onboard control system operates the robot's legs, providing stability on rough terrain as well as reflex responses to external disturbances.
Boston Dynamics is currently field testing BigDog's successor, the LS3, to expand the types of terrain it can travel as well as improve its performance and simplify its design. Unlike BigDog, the LS3 won't need a human operator — it will use computer vision and terrain sensing as well as GPS to navigate terrain.
DARPA also recently expanded Boston Dynamics' contract for LS3 to add even more hi-tech features to make the robot bulletproof and as silent as possible, perhaps envisioning the robot's use on stealth missions. As it is, neither BigDog nor LS3 has seen combat, although DARPA is testing LS3 with the US Marine Corp.
As for when the robot might make it to the battlefield, DARPA told The Reg it "does not make determinations regarding operational use of technology".
Dogs aren't the only animals robotics engineers are using as models for robots. Animals and insects as diverse as snakes, spiders, worms, jellyfish and honeybees have been inspiration for robotic designs.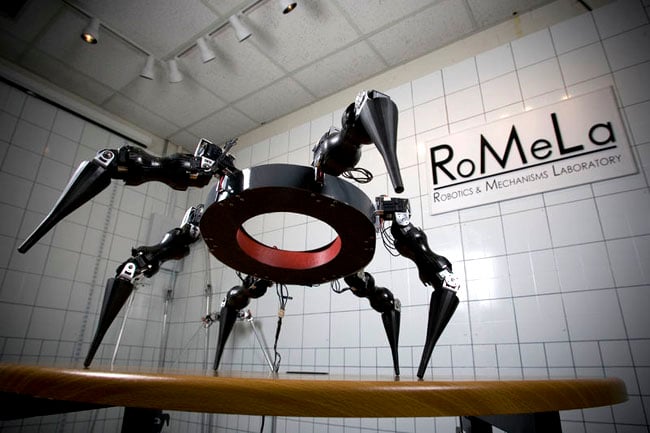 RoMeLa's MARS
Take the Multi-Appendage Robotic System (MARS) from Virginia Tech's Robotics & Mechanisms Laboratory. A fearsome-looking creature made of carbon fibre and aluminium, it resembles a giant arachnid but with six legs instead of eight.
The idea behind MARS was a beast that could operate in space, walking and working in zero-gravity conditions on the ISS and future spacecraft to perform maintenance. To achieve this, an algorithm was needed that could handle all six limbs in different terrain. The last known video of MARS dates from 2007, though, and there's been no updates since and the team declined to respond to our repeated attempts to get in touch.
Similar topics