But can you trust 'em?
Hector has at least seen more success than HSR. Several Hectors are now being used in Germany in elderly care facilities where people live in their own flats. The robot is used for a number of in-home services.
A German company, Metrolab, is building a commercial version of Hector at an as-yet-undetermined price point but one that would be affordable for ordinary people to purchase, Badii says. The robotic software platform for Hector also has been sold to a number of companies who are developing their own companion robots using the software as a base, though none are in use yet, he says.
Even if Hector comes close to providing a feeling of companionship that K-9 provided for its human friends, two of K-9's most charming attributes — his sense of humour and ability to relate informally — are something missing from all contemporary robots, even Hector.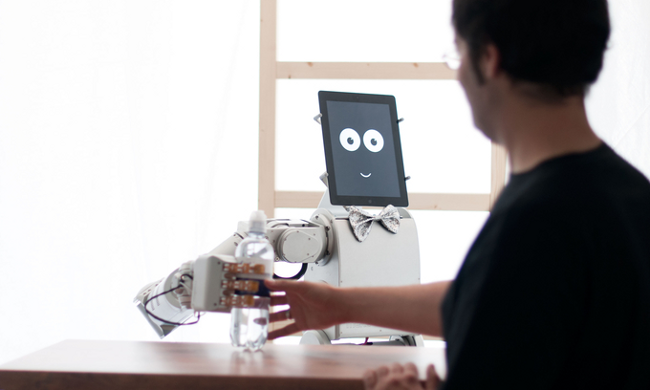 James will serve you a drink, but can it tell when you've had one too many?
However, one group of scientists has been trying to bridge this gap with a bar-tending 'bot called James – Joint Action for Multimodal Embodied Social Systems.
James is the work of the Munich Research and Transfer Institute for Software Intensive Systems in collaboration with other research institutions in Germany, the UK and Greece.
The notion is that James would go beyond simply serving humans with drinks by interacting with them - a kind of digital Ted Danson. James' systems use the BSD-licensed Robotics Library with Open Combinatory Categorical Grammar (CCG), an open-source Java language-processing library; Weka machine-learning algorithms; and the open source computer vision and machine learning software library, OpenCV.
But, as with so many 'bot companions, don't expect James to be buddying up K-9 style any time soon. The bar-tending machine hasn't been designed to be a human companion in the sense Hector is, nor to be an actual bartender, according to Manuel Giuliani, the project leader at Fortiss, a Munich-based lab. James is designed to help researchers in their development of robots that can one day interact in social situations with humans. The barroom model has been selected because of the high-level of human interaction and the opportunities afforded for learning from these interactions.
"We just chose this scenario because it's a very social scenario," Giuliani says. "We think the research we are doing here can be applied to other scenarios as well later. Every scenario in which you interact with a human is social in some way."
But can you trust 'em?
But there is a dark side to robot-human relations. Like most technology fans, those backing 'bots enthuse about the good side of their creations, but gloss over, or haven't thought about, the negatives. And by 'negative' I mean what happens when, like Cylons or the machines in I, Robot, the mechanicals turn on their masters and companions.
Such an outcome is at last being considered. The Engineering and Physical Sciences Research Council (EPSRC) in July began a £1.2m, three-year study called the Trustworthy Robotic Assistants' (TRA) project to probe just such an eventuality.
Those participating in the project include Bristol Robotics Laboratory (BRL), creator of Bert – the Bristol Elumotion Robotic Torso. Bert was built by BRL to examine the use of robots working in manufacturing alongside humans.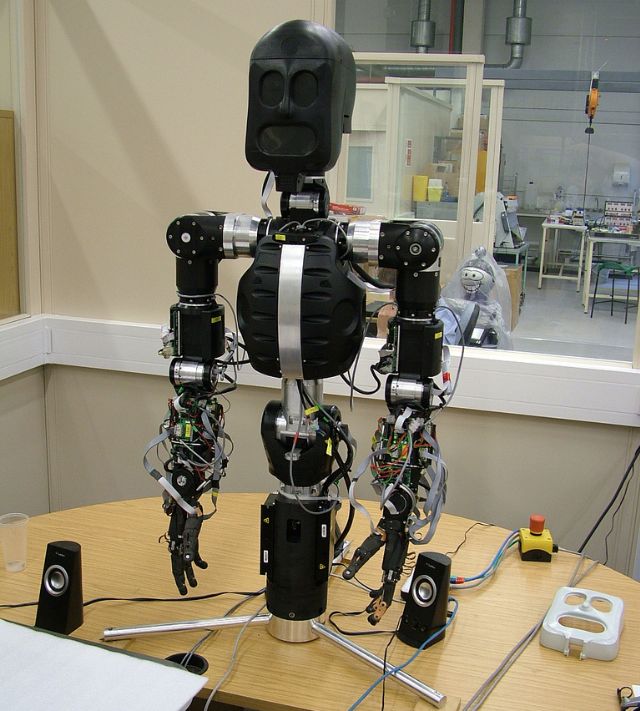 Friendly... for now: Bristol Robotics Laboratory's Bert
Bristol University's Dr Kersten Eder, the principal investigator for the TRA project at BRL, reckons robot safety assurances are an "urgent research challenge that must be addressed before many products that already exist in labs can be unlocked for mass production".
The growing presence of robot helpers means it's crucial to understand not only whether the robots make safe moves but also whether they knowingly or deliberately make unsafe moves. Humans must be confident in the robot's behaviour if human-robot teamwork is to become viable and productive, BRL reckons.
Robots have come a long way since K-9's time. Robot helpers are showing up increasingly in the home and workplace. And the inspiration for these machines are actually carbon-based life forms - animals for the heavy lifting and human for civilian life.
None, though, has bested a loveable hunk of time-traveling junk in a police box for the personality, character or trust we crave in our companions. And none, it's fair to say, will be doing so in the near future. ®
Similar topics