NetApp springs update surprise on Engenio flash array
E540 gets elder bro - the E550
Less than a week after EMC put its bought-in all-flash XtremIO array on sale, NetApp has boosted the power of its Engenio all-flash array product by adding the EF550 above the EF540 in its line-up.
It's also added a new disk-drive-filled branch office SAN array, the E2700, which slots in above the E2600 and below the E5400. The high-end E5500 gets an update.
These Engenio or E-Series arrays are sold to customers who need faster data access than the FAS series can deliver, and without Data ONTAP bells and whistles. The EF540 is NetApp's first all-flash array and many view it as a stopgap until its completely new and in-house developed FlashRay arrives. That day is not today.
NetApp wants us all to realise that the EF550 "delivers high performance and consistent low latency for business-critical applications for which responsiveness and enterprise reliability are critical." It repeats the phrase again and again in its release.
Your humble Reg hack thinks he's got a handle on this: the EF550 delivers enterprise-consistent low performance and high latency for business apps needing critical reliable responsiveness. Is that right? [No - sub-ed]
Let's stop poking fun at NetApp's marketing, and simply say the EF550 is a go-faster EF540. It has:
A 2U rackmount enclosure with 24 x 800GB SSDS and 2U expansion drawer with ditto the drive configuration - basically as before.
Maximum of 120 SSDs and 96TB raw capacity, instead of the EF540's 48 drives and max 38TB raw capacity.
Scale-out architecture.
Claims it has enterprise-grade reliability (it possibly costs more than an all-flash array from a startup, but it's worth it)
16Gbit/s Fibre Channel instead of the EF540's 8Gbit/s FC plus the same 6Gbit/s SAS, 10GbitE iSCSI and 40Gbit/s InfiniBand interfaces
Over 400,000 sustained IOPS instead of the EF540's 300,000
Over 900,000 burst IOPS compared to the EF540's 350,000
SANtricity OS v11.10 vs the EF540's v10.86
Volume copy
And that's basically it. As before there is no deduplication or compression and, as before, we're waiting for FlashRay.
Get an EF550 datasheet here [PDF]. Amusingly, this datasheet lists the EF550 as having disk drives: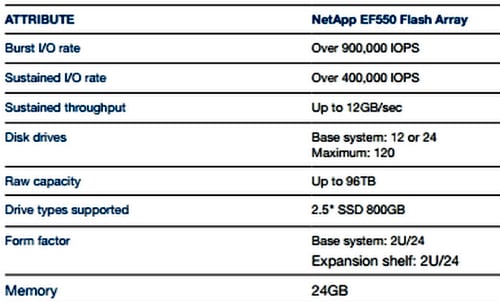 EF550 attributes
You just know where NetApp's comfort zone is when gaffes like these happen.
Meanwhile, the E2700 can be roughly thought of as a go-faster E2600. The main differences seem to be:
12Gbit/s SAS instead of 6Gbit/s
16Gbit/s Fibre Channel instead of 8Gbit/s
Max of 192 disk drives and 120 x 800GB SSDs instead of just 192 HDDs
Faster interfaces and a slug of SSD speed make the thing go faster.
The E5500 get a facelift with maximum capacity raised to 1.5PB from the previous 1.2PB. It has 16Gbit/s FC interfaces but not 12Gbit/s SAS, making do with 6 gig instead. There are also 10GbitE iSCSI and 40Gbit/s InfiniBand as before. There is a data sheet here [PDF] and one for the E2700 here [PDF]. This doesn't seem much of a refresh.
There was no pricing or availability information at this time. ®