Lumia 1520: Our man screams into ENORMO new Nokia phondleslab
Quad-core Windows giant packs a top-notch camera
Scenic beauty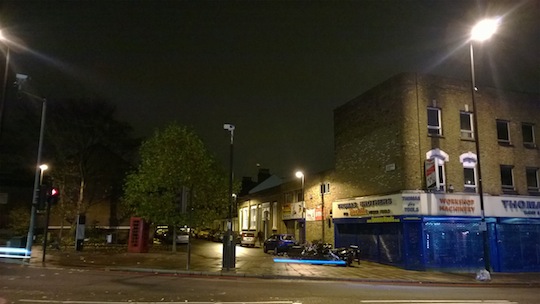 Night time street scene: the 1520 makes a decent stab at capturing the detail and tonal range.
Note the mysterious blue flash. Click for 50pc size image.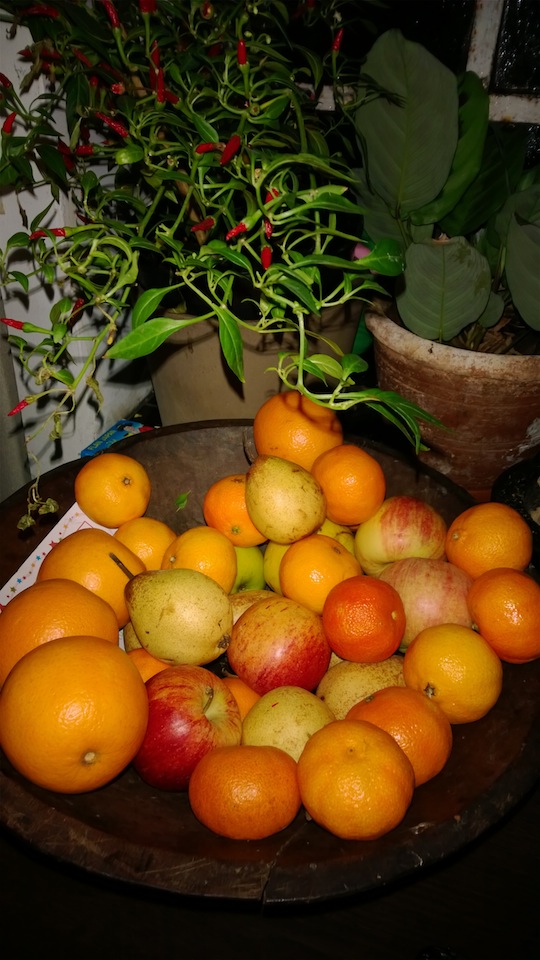 Night time close up using flash. Click for the full size 5376 x 3024 image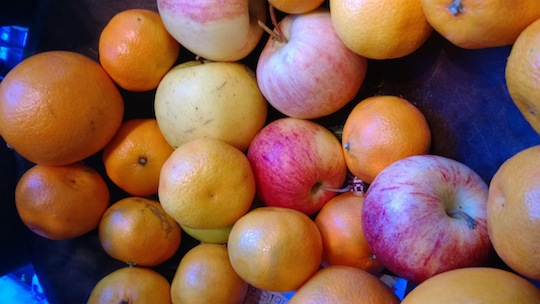 Daytime close up. Click for larger version (50pc of original size)
Even with everything turned on, and email accounts set to push, the phone made it comfortably through a second day. It packs a 3400 mAh integrated battery. With light use it should go on even longer.
UK editions of the 1520 will have 32GB of storage, and capable of handling microSD cards of up to 64GB. Americans, beware: the AT&T edition has only 16GB onboard.
I did encounter one strange bug, and it's not specific to this Lumia, or even to Nokia phones. The 1520 refused to allow me to either create a new Microsoft account, or access a valid Microsoft account. Without one you can't use Facebook or Twitter out of the box, or download any third party apps. It transpired that during setup, the date remained at the factory default, of July 2013. But the error Microsoft's servers returned didn't hint at the cause, and merely invited me to try again later. Once the date was reset manually, I was able to login as normal. It's not a bug that should be there at all, but the lack of an accurate diagnosis from Microsoft will trip up even experienced users, as it did me.
I won't take your time describing Windows Phone. This is the ninth Lumia I've kicked around in the past year* (most recently the 1020, 625 and 925) and while Windows Phone has undergone three sets of tweaks it's barely changed.
The overall experience is better than a year ago, thanks to an app market that's gradually gathering momentum, and it's an ideal system for novices, which runs superbly on low end devices. But it's disappointing here, for a 6-inch tablet really calls for more sophisticated software. What you get is the same as before, but bigger. Yet the browser, while faster than ever and capable of stunning HD rendering, remains hampered with a maximum of six pages ("tabs", which aren't tabs) open at any time. There's no reader mode, or read later facility.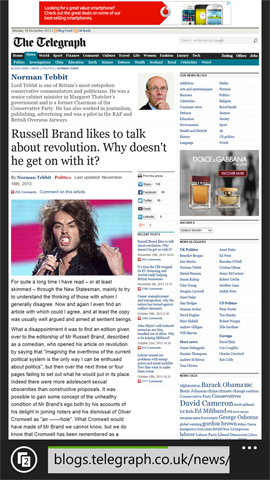 Even Norman Tebbit looks lovely on the Lumia 1520. But the browser isn't much more than a bag of bones.
The screen is so good, it is ideal for Live Tiles that act like (say) Android mail widgets, capable of revealing several email headers, or Tweets at once. Yet the Tiles are the same size as before, and can only display one email or Tweet, the most recent.
For the first time, I found the screen to look busy or cluttered - the ability to add "spacers" would be welcome. And more tweaks could have been made to scale the system for the large screen within applications, too. Have a look at the default Twitter app - just four Tweets are visible by default.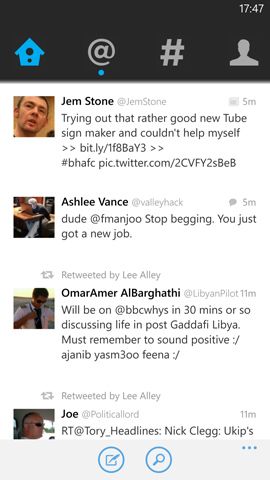 Stand back! Stand back! Twitter's opening....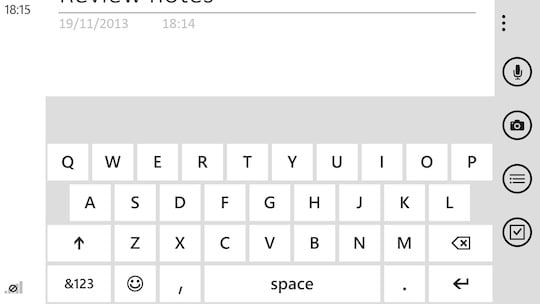 One Note running on the Lumia 1520. For some reason, it's lopsidey.
Microsoft has pushed back the next major Windows Phone update to next spring (or early summer), so you're stuck with WP 8.0 GDR 3 for now. Which isn't at all bad, but it left me the nagging feeling it could be even better. Perhaps it will be.
*Bootnote
Of all those Lumias, the 720 is my personal favourite. Since you didn't ask. But I'll tell you anyway.