This article is more than 1 year old
Xbox One site belly-up in global Microsoft cloud catastrophe
DNS problems render cloud services AND status page inaccessible
Updated Last time Microsoft's Azure cloud went down, it was a sub-component that flaked out globally, and the time before that it was a certificate problem – now the service is inaccessible again, along with its status page.
And the wobble has taken down the Xbox.com website on the Xbox One worldwide launch day.
Other services having trouble include Microsoft.com, which is intermittently accessible. We've had reports of trouble with Office 365 as well. A Microsoft PR has acknowledged our response for further information and, we imagine, is playing phone tag with some techies in Redmond.
Status pages are designed to give information to people about the state of cloud services, and are typically run on separate infrastructure. Not so with Microsoft – on Thursday, many large components of Azure blipped offline, and the status page as well.
Initial reports seem to indicate the problem stems from an internal DNS issue, as both the page and various Azure services are throwing DNS errors. Azure may be working, but reaching it is difficult.
It is also occurring during the global launch of Microsoft's new console, Xbox One, which aims to use Azure services to help it deliver better "experiences".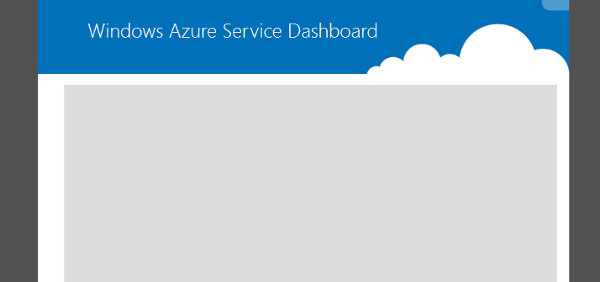 Well, sh-t.
Numerous people on Twitter reported widespread problems with accessing Azure cloud services and instances. We've pinged Microsoft for further information and will update as it comes in. ®
Update at 01.47 GMT, 17.47 PT, November 22
Microsoft sent us a statement acknowledging the problems, claiming the fault didn't stem from Azure, although neglected to mention the DNS snafu:
Microsoft is aware of issues involving cloud and online services and we are investigating the cause. We can confirm that these issues were not caused by Windows Azure. We will keep our customers updated as information becomes available. The service interruption that affected Windows Azure Storage was a separate issue and has been resolved. All Windows Azure services are running as normal.
In an impressive demonstration of the difficulty of coordinating a large multinational, Azure big cheese Scott Guthrie tweeted earlier: "Azure is not having issues (customer apps continue to run fine). The problem is a DNS name server issue outside of Azure."
Update at 23.45 GMT, 15.45 PT, November 21
Microsoft seems to have rolled out a fix for its broken DNS, which has put a halt on the fault. Outlook.com is back, as is the Xbox website, and the Azure Status Page has arisen. People are reporting on Twitter that they are able to access services again. Some are still reporting problems, but we imagine a fix is propagating right now.
Update at 23.33 GMT, 15.33 PT
The Xbox.com website is now reporting the problem as a DNS failure.
"Service Unavailable - DNS failure. The server is temporarily unable to service your request. Please try again later. Reference #11.27ddf180.1385076682.341919," reads a message posted there. Outlook.com is having similar DNS issues as well, according to the What's My DNS service.
Update at 23.13 GMT, 15.13 PT
Earlier in the day, Azure had reported "an issue with Storage in North Central US," according to a status dashboard one of our vultures was able to reach.
"We are actively investigating this issue and assessing its impact to our customers. Further updates will be published to keep you apprised of the impact. We apologize for any inconvenience this causes our customers," Microsoft wrote at 9.15pm UTC.