NASA has halted its rover Curiosity on Mars for a few days while engineers on Earth attempt to figure out what caused an electrical fault in the robot.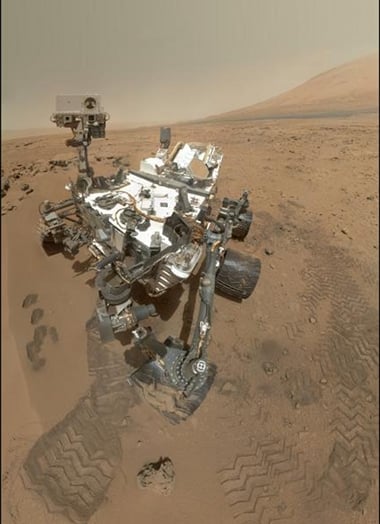 Space selfie ... Curiosity in the Gale Crater on Mars (Credit: NASA)
The space agency was quick to reassure everyone that their favorite nuclear-powered truck was still safe and stable, and even fully capable of operation. But engineers, who were alerted to the fault on November 17, still want a crack at figuring out what went wrong.
"We are taking the precaution of investigating what may be a soft short," said Jim Erickson, Mars Science Laboratory project manager, referring to a type of electrical fault caused by something that's partially or temporarily conductive, rather than a hard short such as one wire touching another and conducting electricity.
According to NASA, Curiosity's team detected a change in the voltage difference between the chassis and the 32-volt bus that distributes power to systems in the rover. The level has been holding steady at about eleven volts since landing day, but had fallen to four volts.
This isn't the first time the rover has had a soft short - it already went through one on landing day. That one was related to explosive-release devices used for deployments before and after it touched down, and it lowered the voltage from about 16 volts to 11.
The engineers are hoping to spend the next few days trying to find possible root causes for the voltage change. So far, they know that the electricity flickered a few times in the hours before the drop and that the issue didn't cause the rover to enter safe-mode. ®