This article is more than 1 year old
Forget ANGELINA JOLIE, Xbox One struts red carpet in London's Leicester Square
It was deserted when we visited, but don't tell anyone
London's Leicester Square has been rebranded as "Xbox One Square" ahead of the release of Microsoft's next generation games console.
From 7pm tonight, the beating heart of London's glitzy West End will host an event with little of the red carpet glamour it is normally associated with. On the streets where red carpets welcome Hollywood stars to film premières, hordes of Xbeasts will descend to celebrate the launch of the Xbox One.
At the centre of the square was a huge 3D version of the console's Phillips-head logo, which resembles a large green X slashed into a white ping pong ball.
Microsoft promised "surprise performances and celebrity appearances". A stray tweet from "AceyBongos", or Graeme Boyd of Microsoft, revealed that one of the performers will be Katy B, while others are expected to include the rapper, soul singer and film maker Plan B.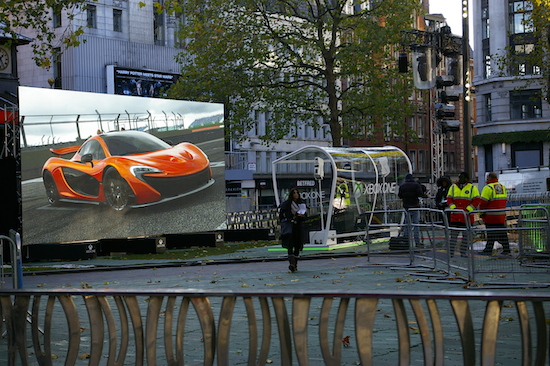 Wasteland: A damp, cold and empty Leicester Square earlier today
We went to visit Leicester Square and saw a bunch of workmen beavering away in the cold.
One asked us: "This is the launch of some new games thing, isn't it?"
We also eavesdropped on a conversation between an event organiser and a workman.
The man who looked like the more senior of the pair said: "There's supposed to be a VIP area over there, but we're not really sure how many VIPs are coming."
There were no queues in Leicester Square, but lines have been reported forming outside stores in the UK.
A pass allowing the bearer to skip the queue at a Birmingham store has been posted on eBay. So far the bidding has reached 99 pence.
Anyone who has pre-ordered an Xbox One will also be able to jump the queue. However, if you want to buy yourself an early Xmas prezzie, you may be out of luck.
Amazon, whose European wing predicted that the Xbox One will be their fastest selling console of all time (until the Playstation 4 comes out next week) posted the following message:
"Due to high demand, customers who ordered this Xbox One Standard Edition console from August 15 may receive their console after release date. Orders placed up to and including August 14 will be dispatched to meet the release date. Orders placed from November 13 may not be delivered before Christmas."
Here's a picture of a Down Under chap who can lay claim to being the first person to get their hands on an Xbox One. You'll notice how pleased he looks.
Congratulations to Dan Livingstone of NZ - you're officially the first Xbox One owner on the planet #XboxOneLaunch pic.twitter.com/zgLzOVWccA

— Phil Harrison (@MrPhilHarrison) November 21, 2013
As regular readers will know, he is not actually the first person to get a new Xbox. One poor punter received his console early, before Microsoft promptly bricked it to stop him reviewing it.
Also, Kim Dotcom appears to have five:
My @Xbox One Two Three Four Five ;-) pic.twitter.com/Ug0Ielzo13

— Kim Dotcom (@KimDotcom) November 21, 2013
Click here to see what our hardware bods have said about the Xbox One. A summary: it's big, it does stuff other than play games and is going to cost about £429, which is £80 more than the Playstation 4. ®