Microsoft touts SCROOGLE merch: Hopes YOU'LL PAY to dump on rival
Anti-Google marketing campaign thinks you're a mug
If you're bothered by the various ways Google uses the data you submit to its services to serve you targeted ads, then Microsoft has the T-shirt for you. Or a coffee mug, perhaps. You know – stuff that totally isn't ads.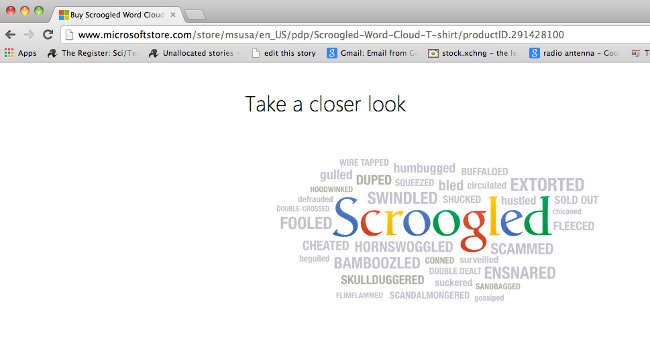 Microsoft aims for subtlety with its new merchandise line
The software giant has opened a new section of its online store dedicated to its "Scroogled" marketing campaign, complete with mugs, shirts, hats, and other paraphernalia based around the claim that Google is giving its users a raw deal.
"Millions of people have visited Scroogled.com and hundreds of thousands have signed the petitions to tell Google to stop violating their privacy," Microsoft's Scroogled team explained in a blog post on Wednesday. "Now, there's a new way for people to express themselves and their misgivings about Google – with Scroogled gear from the brand new Scroogled Store."
Among the available products is a T-shirt featuring the Chrome browser logo on the back of a spider, along with the slogan, "Step into our web." Another one features the word "Scroogled" stylised like the Google logo, surrounded by a word cloud that reads like an unsavoury thesaurus entry.
(Speaking about ads targeting and the retention of the search histories of its customers, Google says it does no evil, with one exec insisting: "We're nice people as well as business people.")
UK-based Google-haters might prefer an item featuring a variation of the ever-popular "keep calm and carry on" theme, with the phrase "keep calm while we steal your data" positioned below the Chrome logo.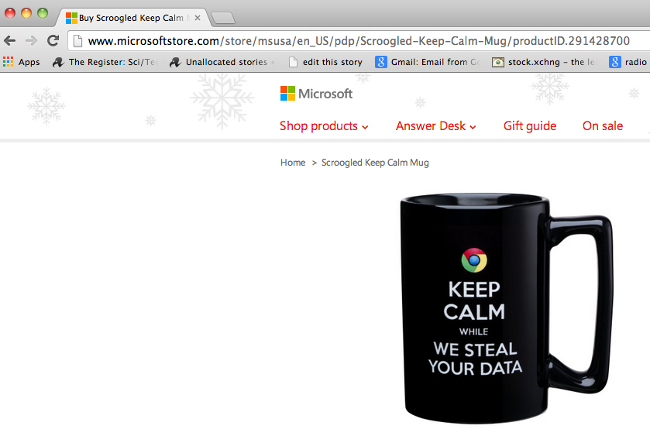 Google, of course, does no such thing. By using its services, "you agree that Google can use such data in accordance with [its] privacy policies".
The new merch presents a true conundrum: Can you overcome your hatred of Microsoft enough to nurture your hatred of Google?
So far, there are only eight products available in the Scroogled store. But Microsoft's blog post promised "water bottles and more," despite the fact that the store is not yet offering water bottles, so it may be safe to assume that more items are coming soon.
The products all seem affordably priced – which is only fair, since someone needs to pay for Microsoft's marketing campaigns, so why not you? – and they arrive just in time for the holiday shopping season.
And even if you think that Microsoft's "Scroogled" campaign is petty, childish, shameful, and reeks of pathetic desperation, don't let that put you off too quickly. Think carefully about what kind of friends you have on your gift list first. ®