The next Star Wars movie will see the return of droid favourite R2-D2, who will be built for the film by two Brit fans who are in a Star Wars robot-building club.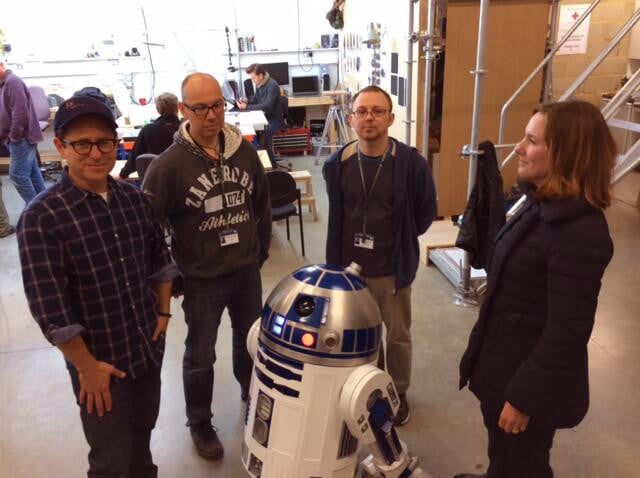 JJ Abrams, Lee Towersey, Oliver Steeples, Kathleen Kennedy and R2-D2 behind the scenes at Pinewood
According to the official blog, Lucasfilm president Kathleen Kennedy saw the R2-D2 Builders Club area at a Celebration Europe event in Germany this summer, where she met Oliver Steeples and Lee Towersey, members of the worldwide group.
Kennedy and film director JJ Abrams were so impressed with the robotic fans' fully functioning, film-accurate astromech droids that they recruited them to work on the effects team for the new movie.
"[Kennedy] posed for pictures with us, looked at all the droids we'd built and was very complimentary," Steeples said. "I mentioned that the R2-D2 Builders in the UK were available if required, as a semi-joke. When I was contacted to work on the film by [executive producer] Jason McGatlin, it was on her recommendation."
The pair already know how to build a droid and keep it working, but they're hoping they can improve on the mechanics of their existing robots for the film.
"We're currently in a research and design phase where we're looking at drive options for reliability on all possible terrains, whether it be a one-motor-does-all, or a system which is easily adjusted depending on terrain," Towersey explained. "We have a few mocked up ideas which we hope to road test very soon."
Steeples, who's from Berkshire and Towersey, based in Middlesex, are now working full-time on the film at Pinewood Studios. It's not the first time their faithful reproductions of droids have gotten them into showbiz, both men worked on Star Wars-themed ads for Currys as well. ®