This article is more than 1 year old
Dear-ly beloved: Apple's costly iPad Mini with Retina Display
Exactly like the iPad Air – only smaller. Well, almost...
Review Last year's iPad Mini really was playing second fiddle to the regular iPad. Not merely smaller than its sibling, the Mini had a much lower resolution display. It had a less powerful processor too. It felt like a product Apple was obliged to make rather than one it actually wanted to.
Twelve months on, and the Mini's first update shows that its manufacturer no longer feels that way.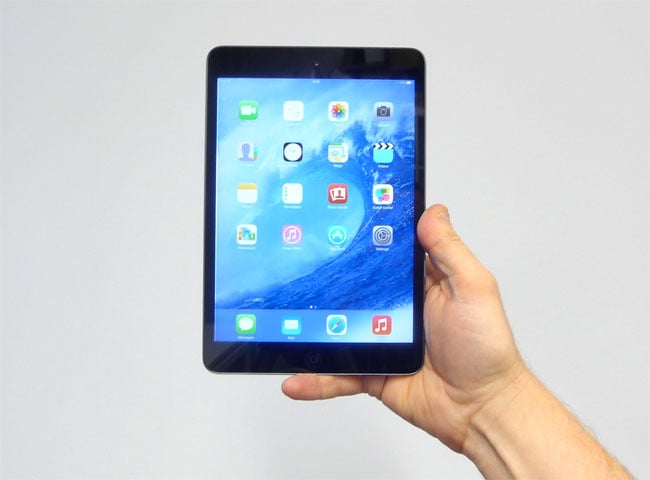 Apple's iPad Mini with Retina Display: no longer second fiddle
The original Mini was a big hit last Christmas, despite its relatively high price for a mid-size tablet. The Register's London Underground Gadget Index™, which measures device popularity by how many travellers whip them out in the morning rush-hour, shows the Mini to be far more popular than all other tablet and tablet-type devices, with the possible exception of e-ink Kindles.
That popularity clearly convinced Apple that the Mini had more legs as a product that it originally thought. And it has now largely brought the spec up to match that of the larger iPad, now renamed the iPad Air.
What we now have are two iPads that differ solely by physical size. Perhaps it would be better to say: one iPad, two form-factors. As far as capabilities go, Mini and Air are all but identical.
Accordingly, both Air and Mini have IPS LCD displays with 2048 x 1536 resolutions, though iOS treats both as 1024 x 768, using the extra pixels to improve image rendering rather than provide the user with more screen space. Both devices sport Apple's 64-bit A7 system-on-a-chip and its sibling, the M7 motion management co-processor.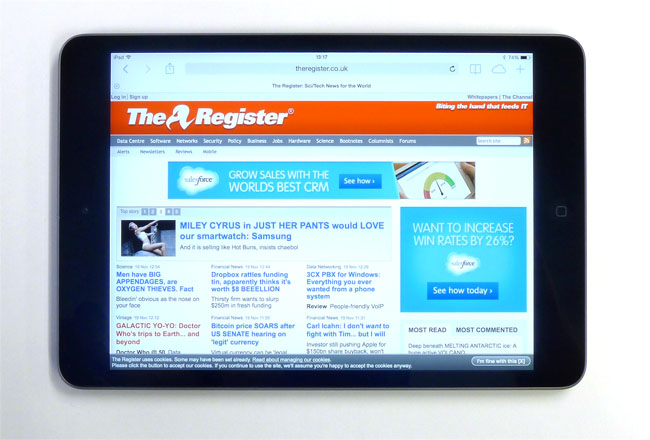 Now with the same resolution display as the full-size iPad
The two tablets also have the same 5MP camera on the back and the same 1.2MP webcam on the front. What the one fondlepad can achieve as a video camera - 1080p recording with the main camera, 720p with the front-facer, 3x zoom, manual focus, picture stabilisation and face detection - so can the other.
Each is equipped with a two-antenna, dual-band 802.11n Wi-Fi card, plus Bluetooth 4.0 and the same (optional) 4G LTE data connectivity for £100 extra. Apple claims that both devices deliver identical battery performance. Both are offered in the same choices: the same choice of black and grey, and white and silver.
The main difference? Physical attributes. The Air is 240 x 170mm, the Mini 200 x 135mm. Both are 7.5mm thick. The Mini weighs 331g, which goes up to 341g with the 4G modem on board. The Air is 469g and 478g, respectively. The new Mini is fractionally thicker than its predecessor and 23g heavier, but not so you'd notice.

As thin as the Air - but fractionally thicker than last year's model
In short, the Mini and the Air are equals in Apple's eye. Two variations on the one theme. It's saying that whichever you buy, you can do so safe in the knowledge that your preference for one size or another isn't going to have any impact on your chosen tablet's ability to do its job. Buying a smaller tablet doesn't mean trading battery runtime or processor performance for size and convenience.
Well... almost. As you'll see if you read on, there are some subtle differences between the two, although they're nothing like the gaps that existed last year.
Of course, the real challenge Apple faces is to convince new buyers that a 7.9-inch tablet with 16GB of on-board storage costing £329 is a better buy than a 7.0-inch, 16GB model that only costs £199. Especially since Google and manufacturing partner Asus have also shown that "reduced-size" tablets need be no smaller in stature than 10 inches.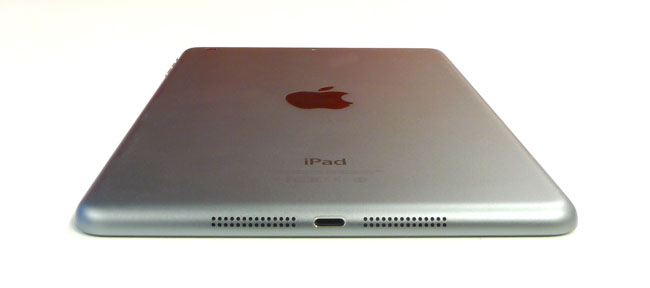 Thunder and lightning? The mini has two speakers and Apple's works-either-way-up connector
That is inevitably going to prove an ever harder sale for Apple to make as time goes by. When the iPad stood head and shoulders above all comers, its rivals were by and large cheap but low quality. That's no longer the case. The original Nexus 7 was a great product, and its 2013 successor is even better. Amazon's Kindle Fire series has likewise improved over the past two years. Its members are just as cheap as the Nexus.
If Samsung, Apple's other major-name rival in the tablet market, doesn't appear to be making the same strides as Google and Amazon, that's because it seems more focused on spreading its smartphone family up into tablet territory than on taking the fight to Apple. Not that it has let its Galaxy Tab line languish, mind.