Dear-ly beloved: Apple's costly iPad Mini with Retina Display
Exactly like the iPad Air – only smaller. Well, almost...
Price fighter
Some users and reviewers have rightly grumbled about image retention, the new Retina screen sometimes revealing the shadow of an earlier image. There's an online test to show this flaw, but it's worth noting that not all Mini Retina displays are affected by the problem, and it's not a permanent issue - it isn't screen burn.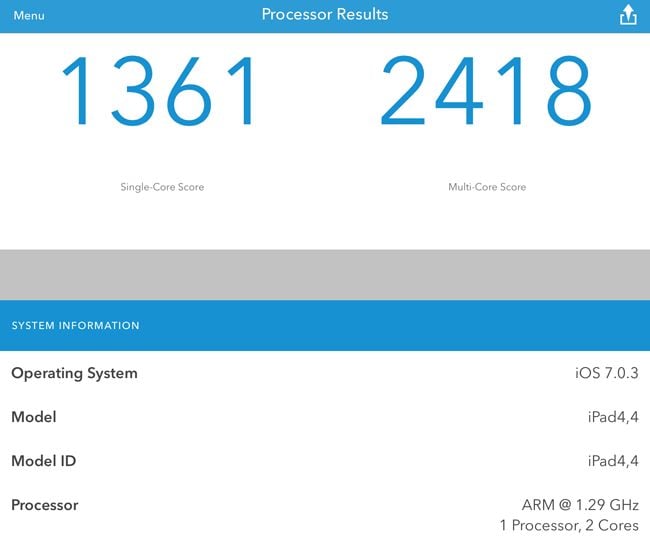 The iPad Mini 2013's Geekbench 3 score
The test has to be run for 10 minutes if its black-and-white chequerboard pattern is to remain visible when the screen is switched to a uniform grey tone. There is clearly a flaw with some Mini screens, but how many tablet users are likely to sit and view a single, static image for 10 minutes at a time? Not too many, I'd have thought.
How much of a problem this flaw is in practice, then, is open to question. I put my review sample to the test and saw no retention, but I have seen pictures of Mini Retina screens that are troubled by it. New products almost always come with this kind of early adopter penalty. Just look at the problems some PS4s appear to be suffering from now and recall the screen issues that hit some of the first Nexus 7s.
So if you're unwilling to risk it, wait until Apple's screen partners iron out the bugs in the production process.
Or buy a different product.
Apple claims the Mini's battery is good for "up to 10 hours of surfing the web on Wi‑Fi, watching video, or listening to music". The "up to" is a handy get-out clause. Playing a 1080p MP4 movie over and over until the battery gave out gave me six-and-a-half hours. Wi-Fi was on and connected, sound was output through headphones and the screen brightness set at 50 per cent.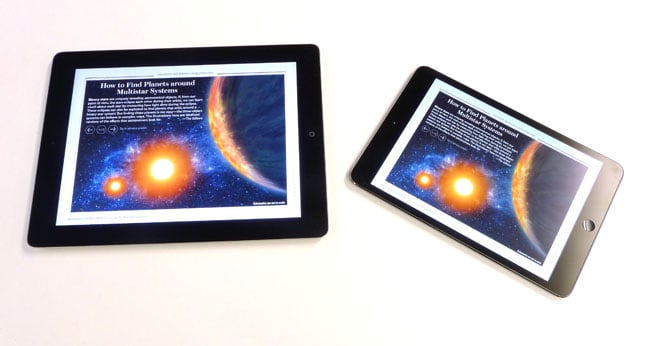 Retina, then and now: the iPad 4 and the new iPad Mini
To be fair, though, battery life in phones and tablets generally improves slightly after a couple of discharge and recharge cycles – I had simply topped it up out of the box and let it run down – so I'd expect that figure can be beaten. Still, it's not quite up there with the Air and its much larger battery.
I also found the Mini got noticeably warm during the run, though not unpleasantly so.
The Mini's camera makes a decent fist of outdoor photography, though its capabilities in low-light situations are limited by a lack of flash – not that mobile device flashes are generally up to much. The iOS 7's high-dynamic range (HDR) processing helps more.
The point is, pictures look fine on screen where their reduced size masks compression artefacts and sensor noise. View snaps on a 1:1 basis, however, and you can clearly see how limited these cameras are. But since most picture are now viewed on screen at resolutions well below 5MP at 2592 x 1936, most users will be happy with shots taken on the Mini.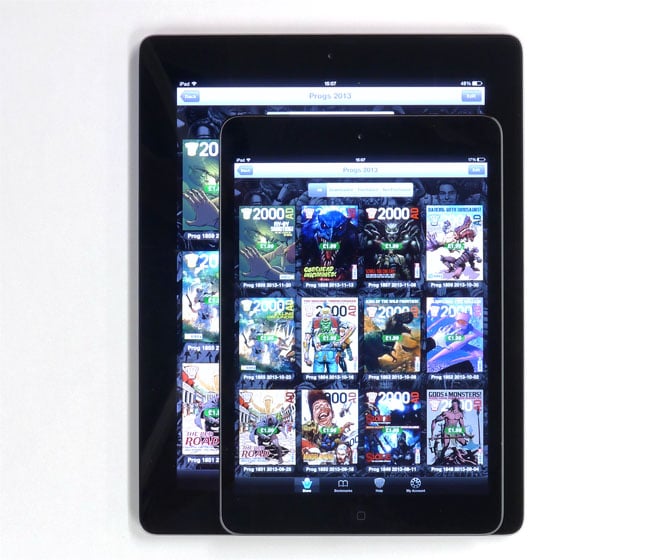 Keeping Thrill Suckers at bay - at any screen size
Finally, the Mini, like the Air, upgrades the onboard wireless connectivity with one extra antenna. It won't necessarily double your download speed unless you're pulling content off a local NAS box, but it will help the Mini deal with areas of poor reception.
The Reg Verdict
Facing the world with a proper Retina display means the new iPad Mini has overcome the key limitation of its predecessor. The fact that it has also gained internals to match those of the top-of-the-range iPad Air means it's no longer the "iPad Jr" either, but an Air in an optional, smaller form-factor.
The Mini isn't as powerful as the Air, but there's not a lot in it. But it is considerably nippier than 2012's Mini. If you held off buying a Mini because of the non-retina screen, you can pat yourself on the back for your foresight and patience, and grab one now.
Would I recommend the new Mini? To anyone already in the Apple ecosystem, yes; to OS-agnostic new buyers, no. The new iPad Mini is a very nice mid-size tablet, but I honestly can't see a reason for Joe Soap to favour one over, say, the Nexus 7, or the Kindle Fire HD or HDX if you don't mind being tied to Amazon. That's not because the Mini is an inferior product, simply because it's a much more costly one. ®
The Register would like to thank the Square Group for lending us the review sample.

Dear-ly beloved: Apple's costly iPad Mini with Retina Display
The Mini is a made mid-size that ticks all the boxes. The only flaw: its equally good rivals are rather less expensive.