Who wants a Xeon-powered, 12-core, RAID 10 … LAPTOP?
Get out your re-enforced asbestos pants, sysadmins, it weighs in at 5.5 kilograms
---
The exotic laptop lads at Eurocom have just unleashed another in their series of very peculiar contraptions: the Panther 5SE laptop.
Eurocom won't like us calling it a laptop: the official name is "Mobile Server supercomputer-class laptop".
Supercomputer is perhaps a bit over the top, even if the computer can pack a 12-core, 24-thread E5-2697 v2 running at 2.7GHz. Eurocom says it's the first to have built that CPU into a portable.
Calling it a mobile server may also be stretching the friendship. The claim of server status is sustained by the presence of four disk drive slots, the ability to handle those under RAID 0, 1, 5 or 10, four memory slots capable of collectively housing 32GB of RAM and readiness to run major server operating systems or even VMware's ESXI hypervisor. The claim starts to wobble a little when one considers that Eurocom classifies the battery as a "battery/UPS" and says it offers just an hour of operations. The presence of just one gigabit ethernet port may also worry sysadmins, although it's possible to add more thanks to the presence of an ExpressCard slot.
Eurocom isn't suggesting sysadmins will lug this 5.5kg, 419 x 286 x 57.9~62.1 mm beast around for daily use. Instead it's being suggested the Panther is a portable server one could implement during a crisis or in locations where schlepping in a bigger box is out of the question.
The company does believe the laptop could be used on your lap, talking up the 300w power brick as ensuring much of the heat the computer produces will be outside the laptop's main chassis.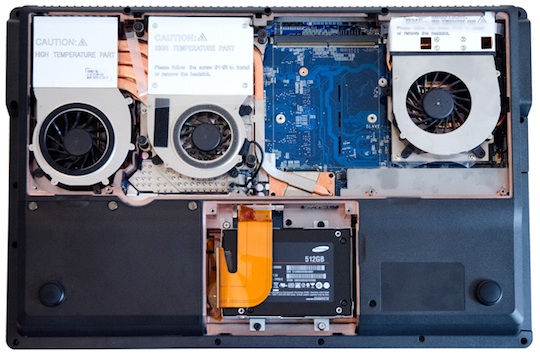 The Eurocom Pather 5Se 'Mobile server supercomputer-class laptop'
Vulture South took Eurocom's online configuration tool for a spin to see what the machine would cost when built with 32GB of RAM, 4.5TB of disk (1TB capacity is the largest offered for disks two through four) Nvidia GBX 670MX graphics card, that Xeon E5-2697 v2 Windows Server 2012 and a spare battery. The price emerged at £5,423 or $US7,672, not-insignificant sums.
It's almost certainly possible to buy comparable or superior servers for a better price, but those servers wouldn't be as easy to fit into the overhead bin on a plane. Or offer the chance to develop your musculature quite like the Panther.
What do you think, sysadmins? Is the Panther worth pouncing on? Or should this cat be left to prowl alone? ®