Pics Forget self-driving cars. How about flying ones? Reports have emerged of what appears to be a mysterious airborne vehicle being developed by a stealth company operating near Google's Mountain View headquarters.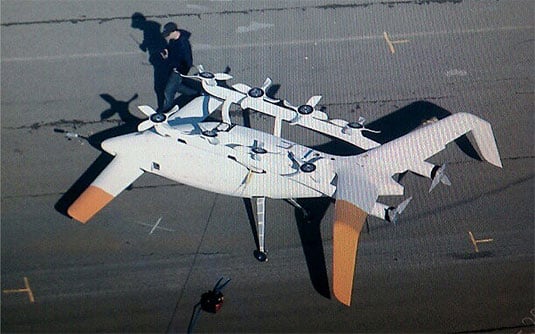 It looks real, but does it work? Zee.Aero's mysterious prototype aircraft (Credit: Greg Espiritu/SF Chronicle)
On Wednesday, the San Francisco Chronicle reported on patent filings by a hush-hush outfit called Zee.Aero that describe a "personal aircraft" with unique characteristics.
The proposed vehicle's design is so unusual that it looks like something out of science fiction. But a later article revealed that more than one snoop has managed to capture photographs of a real-life aircraft bearing a striking resemblance to the illustrations in Zee.Aero's patents.
Whether the vehicle in the photos is exactly the same as the one described in the patents is unclear. The patents imply an aircraft with a pilot and room for passengers, while the aircraft in the photos looks unmanned.
Both vehicles share the same unusual wing configuration, however, and both appear to achieve their lift using twin rows of vertical-facing propellers, plus two more in the rear for thrust.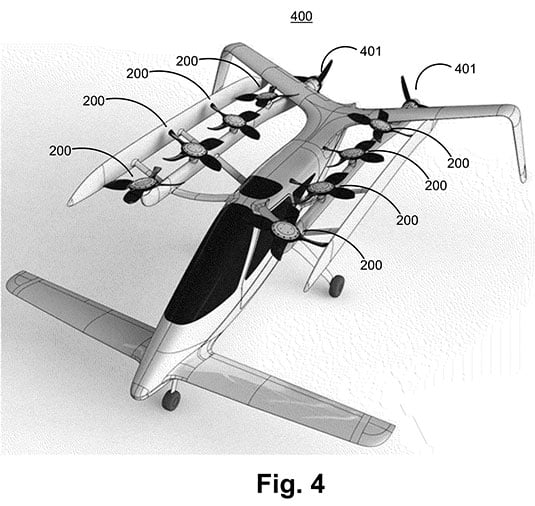 The Zee.Aero aircraft design's unique propeller arrangement allows for vertical take-off and landing
According to Zee.Aero's patents, the vehicle the company is building is "a personal aircraft with a configuration that is safe, quiet, and efficient, as well as easy to control, highly compact, and which is able to accomplish vertical takeoff and landing with transition to and from forward flight."
In addition, some versions of Zee.Aero's designs include landing gear in which "some or all of the wheels are fitted with electric motors that allow the wheels to be driven," so that the vehicle can be self-propelled on the ground.
An illustration in one of the company's patents even goes as far as to depict the aircraft, its rear wings folded, parallel parked next to two cars.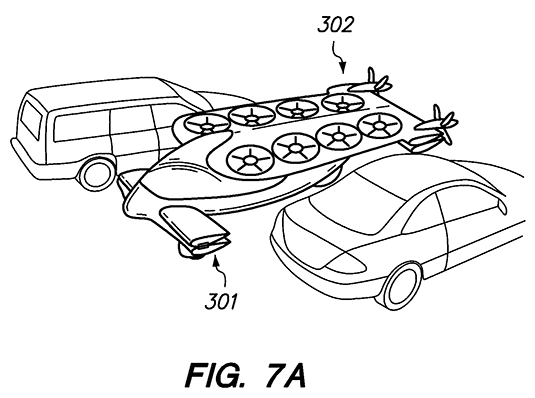 The commercial version could be compact enough to fit two in your garage
Zee.Aero was founded in 2010 and is reportedly being run by Stanford aeronautics professor Ilan Kroo. In an email to the Chronicle, Kroo confirmed that the company is an early stage startup working on "some interesting transportation ideas."
Its proximity to Google has led to some speculation that there may be a link between the two companies. The Chocolate Factory clearly has some interest in novel transportation ideas, and in 2011 it showed off a different flying-car design at its Google I/O developer conference. But Kroo said that while Zee.Aero is located near Google and several other tech companies, it isn't affiliated with them.
"The company is in its early stages – still in stealth mode – and we have not been talking to people about our plans quite yet," Kroo wrote. "I'll look forward to talking with you when things are a bit further along." ®