Doctor Who writers Neil Gaiman and Terrance Dicks talk to The Reg
The TARDIS, lingering love, Colin Baker's silly costume and more
---
Dicks on The War Games
The Reg: But people really dig The War Games!
TD: Yes. In the past I was always a bit apologetic about The War Games, at conventions. I'd say: "The opening episode's good – they're in the First World War and a Roman chariot comes out of the mist, that's a great moment. And the end, with the trial of the Doctor when he's condemned to turn into Jon Pertwee, is good. But in between there's a lot of running up and down corridors, escapes and captures.
When it came out on DVD, there was a big review in the Doctor Who magazine which said: "Terrance has been talking nonsense, it's excellent all the way through." I was highly delighted to be proved wrong.
The Reg: Is there a particular Who phase you rate?
TD: The whole of the Pertwee era [1970-74], though I'm a bit sort of schizophrenic about the Doctor being exiled to Earth. I love UNIT and the UNIT stories, but of every story is a UNIT story, monotony is going to set in, and in any case, it's not Doctor Who. Doctor Who is the Doctor saying: "Come for a trip in the TARDIS, I know this delightful planet", and when they arrive monsters jump on them immediately. So we spent at least a season, maybe more, getting the Doctor up and away again.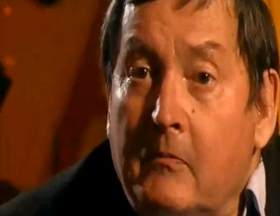 Doctor Who declined during the 1980s, no question - Dicks
The Reg: Some viewers have mixed feelings about the '80s Who.
TD: My feeling aren't at all mixed. There was a decline without a doubt. I think the people working on it, particularly John Nathan-Turner [producer 1980-89], were not fit for purpose, as it were. Colin Baker, for example, never got a chance with that silly costume, which I thought was a great shame. I was sorry but I wasn't surprised when they took it off.
When they did the 1996 movie, Barry [Letts, producer 1969-74) and I both hated it – a BBC mandarin asked me what I thought of it, and I said: "Incoherent crap." The one thing they got right was Paul McGann. I was sorry when it didn't go to series, though with an Anglo-American project you're always in a dodgy situation. So I was highly delighted when it came back with such a bang in 2005.
The Reg: Comparing the two epochs, what has been lost and what's been gained, do you think?
TD: What has been gained is pace, complexity and of course spectacle, with special effects – they've got a much bigger budget than we had. What's been lost a little, I think, is narrative structure and everything making sense. Having just 50 minutes, they sometimes have to whizz through a story, sometimes too quickly. It's not the show I worked on and it's neither better nor worse, just thoroughly different.
I don't always understand it but I still watch it and I think Matt Smith and David Tennant were both born-to-play-it people, like the first handful (of Doctors) pretty much were. David Tennant was terrific – if it wasn't for Pertwee he'd be in the running for my favourite I think.
The Reg: Would you pass on any wisdom to the current producers?
TD: I think the essential character of the Doctor certainly shouldn't change, but I've served my time on Who, and it's not my business to tell them how to do it. It is, though, largely made by people who grew up reading my Doctor Who books, ha ha! ®