This article is more than 1 year old
Wintel must welcome Androitel and Chromtel into cosy menage – Intel
Chipzilla couldn't keep up with ARM-dominated mobe world
Intel and Microsoft no longer dominate the personal computing industry as the once fearsome Wintel alliance, Intel has acknowledged. Now the chip giant has announced a broad push to get its silicon into devices running Windows' rival operating systems.
Intel's PC chief Kirk Skaugen admitted the demise of the ages-old alliance at the company's investor relations day on Thursday, by announcing specific and detailed plans to enhance Intel hardware's support for "the tier-one operating systems" of Linux, ChromeOS, Android, and iOS (and Windows). It's worth noting that Google's Android and Chrome operating systems are both powered by the open-source Linux kernel, once much hated by Microsoft's top brass.
"For the last decade we've essentially been 100 per cent Microsoft on the client," Skaugen said. "We're starting to see out of emerging markets demand for Android. [There's] certainly strong demand for Apple [We] will support what the market desires."
Skaugen's comments and those of other executives painted a picture of a company humbled by the speed with which the tech industry has shifted to mobile, an area dominated by chip-design rival ARM. Pretty much every smartphone on the planet is ARM powered, along with a healthy chunk of tablets, TVs and plenty of other gadgets.
"I was personally embarrassed that we seemed to have lost our way," said Intel chairman Andy Bryant at the event, when discussing the way Intel had failed to get into tablets and ultra-mobiles quickly. "We're paying a price for that right now."
Indeed, the mobile device categories of smartphones and tablets have seen an unprecedented level of market uptake and penetration, and have started to eat into Intel's traditional revenue base of PCs. Though the company can still spin gold out of its best-in-class high-end data center chips, it has struggled to gain a foothold in mobile.
The processor maker has a range of strategies in place to get into mobile, but they're a long way off. Its best hope comes in the form of a processor codenamed Sofia, which involves taking systems-on-a-chip (SoC) designs from the ARM world and swapping out bits of the core for traditional x86. This is a big compromise for the company, but will allow it to get to market quicker.
Intel's strategic shift was termed "pragmatic" by chief executive Brian Krzanich.
Though Skaugen said Intel is seeing "stabilization [in PCs] led by mature markets and industry," the world has changed, and the company has come to acknowledge that its new commercial reality is a multi-device, multi-OS one – rather than one dominated by Microsoft Windows, which hasn't fared at all well in the mobile computing arena.
"We're right in the middle of yet another transition," Skaugen said. "We're embracing OS choice based on meeting what the market wants."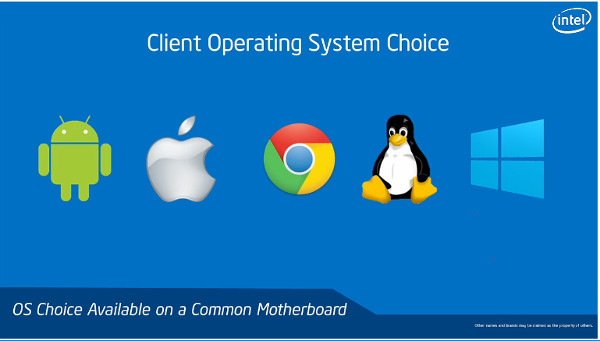 Sayonara, Wintel: Intel's "tier one" operating systems
To prepare it for its strategically crucial dive into mobile devices, Intel has begun pursuing a multi-OS strategy for PCs to help it retain share, and learn to work more closely with a broader range of vendors than before.
It plans to scale Android up to 64-bit x86 processors, he said, and wants to work hard to make it easier for Google's OS to use some of Intel's underlying enterprise capabilities like vPro security. The company hopes to have Android "scale from Atom to the high-end of the core processing family".
Skaugen also said Intel senses money in Google's Chrome operating system. "We have a significant opportunity to gain share here versus ARM," he said. He picked out Linux distribution Ubuntu for praise as well.
Intel has seen a lot of interest from hardware partners in putting dual boot capabilities into systems, and will work hard to enhance these features, he said.
Tablets are expected to outsell all PCs by 2016, so if Intel wants to make this transition it needs to start fiddling with tablet-friendly OSes now so that the future's fondleslabs will be Intel-powered. True low-end mobile phones and tablets still look a long way off.
Though Intel says a lot of the motivation for this shift to a world populated by many "tier one" OSs has come from customers, it also stems from the chip giant's desire to make more cash in a market that makes Wintel look increasingly irrelevant. ®