Moto's DIY smartphone Ara to be 3D PRINTED in exclusive new deal
3D Systems scoops contract to craft modular mobe
Motorola has signed a multi-year deal with materials-printing firm 3D Systems to put together parts for its snap-together modular smartphone known as Project Ara.
3D Systems will build a "continuous high-speed 3D printing production platform and fulfillment system" for Motorola and develop new types of material for printing and conductive inks for Ara. If it succeeds in impressing Motorola, the company will have the exclusive rights to build modules for the composite smartphone.
"3D printing promotes a level of sustainability, functionality, and mass personalization that turns these kinds of global ambitions into attainable local realities," said Avi Reichental, president and CEO of 3D Systems in a canned statement.
"Project Ara combines two exponential technologies, and we expect that the resulting high-throughput advanced manufacturing platform will have far reaching implications on the entire digital thread that stitches together the factory of the future."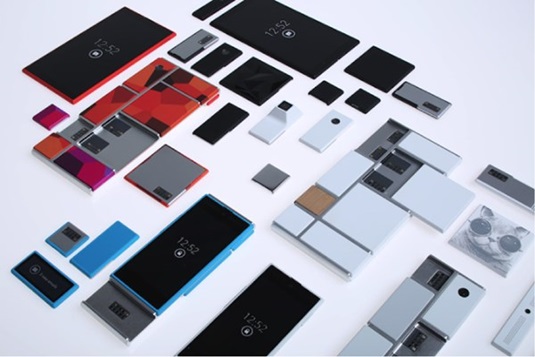 Project Ara ... A phone for all seasons?
Ara is envisaged as having a basic endoskeleton to hold the shape of the smartphone and its connectors, with hot-swappable modules to add separate functions as required. The concept owes much to the Dutch-designed Phonebloks system, which has been gathering steam in the open-source community as smarter way to build phones.
When Google-owned Motorola announced Ara in September it promised that the phone would be an open-source effort intended to create the kind of third-party developer market seen with Android. So the exclusive deal with 3D Systems is raising some eyebrows.
It's still very early days in the Ara project, and the deal may only cover the manufacture of the central components and endoskeleton. 3D Systems says its "driving application" in the Motorola partnership is to have an "open hardware ecosystem," and mass customization for consumers.
"It requires technical advances in areas such as material strength and printing with conductive inks for antennas," said Regina Dugan, head of Motorola's advanced technology and projects group. "Those advances must support production-level speeds and volumes, which is a natural partnership with 3D Systems."
Motorola's not the first to think of modular electronics, and the concept has been tried, with limited success. But most systems suffered from either very expensive modules and/or connector problems with the basic framework leading to poor reliability.
Ara utopians may have been hoping for a mini-boom in developers designing parts of the phone, but the necessary 3D printing equipment to handle isn't in wide circulation yet, and won't be for years. By getting one company to print all the modules, Motorola may make Ara cheaper and more reliable, but it could stifle third-parties from designing for the handset. ®
Updated to add
We asked 3D Systems if it will allow anyone besides Moto to print mobe parts for Project Ara using its technology. The biz told us:
We will be commercializing the advanced printing platform beyond smartphone manufacturing use and anticipate it being useful as a fab-grade manufacturing to a variety of products and industries, but Motorola will have an exclusive on the use of it for smartphone manufacturing in the beginning. New materials will be developed and used but there is nothing specific to announce on this front right now. As we develop the new materials they will also become commercially available for other markets.