Before the T. rex held the world in the palm of his tiny, tiny clawed hands, another newly discovered dinosaur was terrorising the planet 98 million years ago.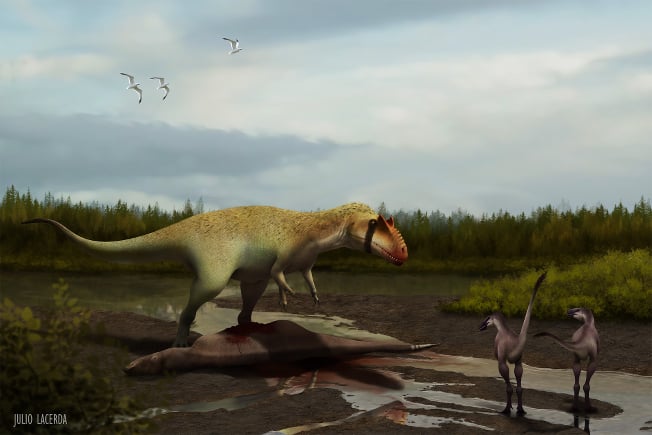 Siats chows down on some iguanodontian and scares the crap out of puny tyrannosauroids. Credit: Julio Lacerda, Lindsay Zanno
The giant monster, which was over 30 feet long and weighed more than four tons, is the first of its kind to be discovered in North America.
"This dinosaur was a colossal predator second only to the great T. rex and perhaps Acrocanthosaurus in the North American fossil record," said Lindsay Zanno, lead author on the paper and director of paleontology at North Carolina State University.
Zanno and her colleagues at the North Carolina Museum of Natural Sciences and The Field Museum have named the dinosaur Siats meekerorum, referencing a cannibalistic monster from the mythology of the Ute Native American people and the Meeker family, who supported early palaeontologists at The Field Museum.
The bones of the mighty beast were discovered in 2008 by Zanno as part of a Field Museum expedition to 100-million-year-old rocks in the Cedar Mountain Formation in Utah and then dug out in a massive project over the next two summers.
Although it's in the same size bracket as T. rex and other tyrannosaurs, the dinosaur belongs to the carchardontosaurian group of theropods, whose more famous members include the Giganotosaurus.
The specimen comes from the middle of a 30-million-year gap in the fossil record of large North American predatory dinosaurs, when the position of top of the food chain passed from carcharodontosaurians to tyrannosaurs. Because of the lack of physical remains, paleoboffins have been unsure about when exactly this change occurred and if tyrannosaurus outcompeted the earlier dinosaurs or if the carcharodontosaurs went extinct.
Excavations in the Cedar Mountain Formation have thrown up tyrannosaur teeth that indicate that the ones living alongside Siats were puny in comparison and didn't have a hope of taking the apex predator spot.
"The huge size difference certainly suggests that tyrannosaurs were held in check by carcharodontosaurs, and only evolved into enormous apex predators after the carcharodontosaurs disappeared," said Peter Makovicky, study co-author and Curator of Dinosaurs at the Field Museum.
Siats tells scientists that carcharodontosaurians reigned in America for much longer than they previously thought, a discovery that the team reckons is only the beginning for excavations from these mountains.
"Siats is just the tip of the iceberg; our teams are unearthing a lost dinosaurian ecosystem right here in the badlands of western North America," Zanno said.
The full study, "Neovenatorid theropods are apex predators in the Late Cretaceous of North America", was published in Nature Communications.