Speedy brother joins Xyratex ClusterStor: And 9000 makes four
Brace yourselves: Quad prod range gets shinier
Xyratex has added a fourth, high-end storage array to its ClusterStor line, the 9000, which is half as fast again as the previous top array, the 6000.
These ClusterStor 1500, 3000, 6000 and 9000 arrays provide a Lustre parallel file system store, Xyratex having bought the Lustre IP from Oracle in February.
For reference DDN's SFA12K line provides both Lustre and GPFS support.
As with other ClusterStor products the 9000 has a scale-out architecture using Scalable Storage Units (SSUs) which combine server, storage, networking and software. A single SSU has 9GB/sec of bandwidth and the maximum is more than 1.5TB/sec, which would require according to our simple math 168 SSUs. A rack full of SSUs would deliver more than 60GB/sec, implying 25 racks would get you to 1.5TB/sec and 17 racks would reach 1TB/sec.
Xyratex claims its 9000 array is the "First to exceed sustained 1 TB/sec."
DDN's very recent SFA12KX does 48GB/sec from a single appliance and hits the 1TB/sec area with 21 appliances.
In comparison a rack full of ClusterStor 6000 SSUs would deliver 40GB/sec.
Xyratex also claims the 9000 has the "Lowest disk failure rate" and its mean actual annual disk failure rate is "66 per cent lower than industry experience." HOw it achieves this is not known although it does say "Reliability starts with most reliable disk drives in the industry."
Ken Claffey, SVP and general manager of the ClusterStor business at Xyratex, said that as well as raising ClusterStor's performance level, "we are also providing a range of productivity tools that enables greater resiliency to failures at scale both minimising downtime and improving ease of management which directly translates into improved productivity."
One of those features is the addition of a closeted, high-availability CIFS (SMB) and NFS gateway so users of those file systems can access ClusterStor (Lustre) data. Other features include:
Flash Accelerator which "transparently streamlines small file and large file IO workloads through application consolidation"
Lustre 2.5 enhancements such as "Hierarchal Storage Management (HSM) allowing data transfer between different storage platform types"
Grid RAID with a parity declustered RAID technology to deliver up to 400 per cent faster drive rebuild time (compared to 6000)
T10 Data Integrity Field (DIF) Type 2 data protection
Upgraded v1.4 ClusterStor Manager software with dashboard "displaying the physical configuration and status health of an entire HPC user's storage system."
Xyratex says that management data can be integrated "with other data centre management tools."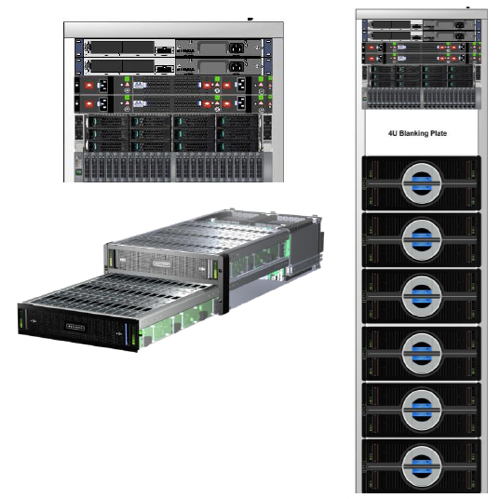 Xyratex ClusterStor 9000 with management unit to top left
The 1500 has a 2-node ClusterStor Management Unit server. The 3000 and 000 have 2U 4-node servers for management,. The 9000 ups this to another level, its management unit featuring:
1 x High-Availability System Management Server
1 x HA Lustre Management Server
1 x Pair of HA MetaData Management Servers
1 x Management Storage Enclosure
There ia a 2 x 24 port Management Network switch and a 2 x 36 port FDR InfiniBand or 40GbE Data Network switch.
If you like the specs of the ClusterStor 9000 you will have to wait. It's scheduled for availability through Xyratex partners in mid-2014. ®