This article is more than 1 year old
Astronomers spot 13-BEEELLION-year-old hot galactic threesome
Peeping toms probe the secrets of big gas bubble
Pics Using a combination of space and ground-based telescopes, astronomers have discovered three primitive galaxies slowly merging in a bubble of primordial elements.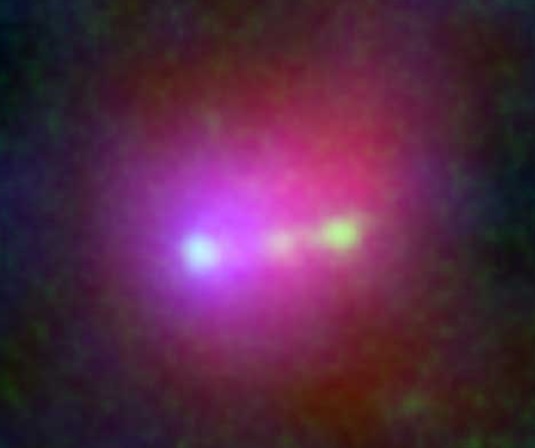 Galaxies need to get a room
The galactic cluster was first spotted in 2009 by NASA space-scope Hubble and is located around 13 billion light-years distant, meaning they were formed in the first six per cent of the universe's lifetime – that's about 800 million years from the Big Bang, or some 13 billion years ago from now.
At first it was thought the bubble, dubbed Himiko, was a single proto-galaxy, but it was ten times larger than would be expected for that early era and 100 times brighter than its neighbors - piquing astronomers' interest.
The bubble has now been scoped out with the Spitzer space telescope, and the Atacama Large Millimeter/submillimeter Array (ALMA) telescope in Chile has provided a chemical analysis. The resulting picture shows not one, but three small galaxies slowly merging into a single body in a flare of energy.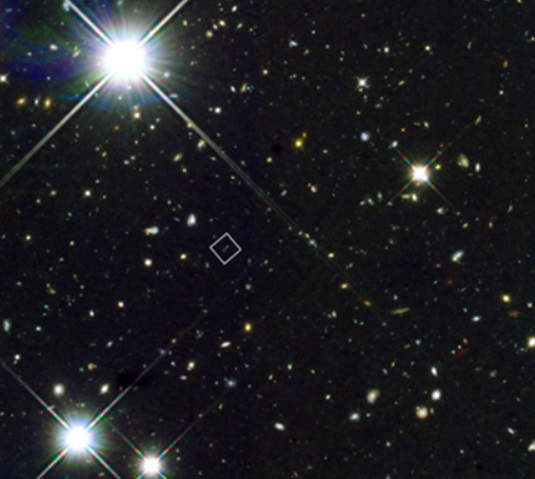 Hot primordial passion in distant universe
"This exceedingly rare triple system, seen when the Universe was only 800 million years old, provides important insights into the earliest stages of galaxy formation during a period known as 'Cosmic Dawn,' when the Universe was first bathed in starlight," said Richard Ellis, the Steele Professor of Astronomy at the California Institute of Technology.
"Even more interesting, these galaxies appear poised to merge into a single massive galaxy, which could eventually evolve into something akin to the Milky Way."
But the Himiko cluster results, published in December's Astrophysical Journal, poses something of a dilemma for cosmologists. ALMA's observations show the composition of the cluster is not what current theories would suggest.
"When this dust is heated by ultraviolet radiation from massive newborn stars, the dust then re-radiates at radio wavelengths," remarked Kotaro Kohno, a member of the team also with the University of Tokyo. "Such radiation is not detected in Himiko."
In addition, the cluster shows no evidence of containing carbon, which would be expected given the nature of the galaxies and their position in the universe's history. More exploration by ALMA is going to be needed once its 66 antennas come fully online.
"Astronomers are usually excited when a signal from an object is detected. But, in this case, it's the absence of a signal from heavy elements that is the most exciting result!" Ellis said. ®