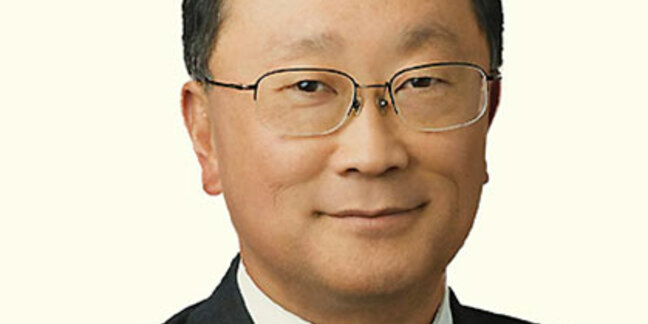 New BlackBerry interim CEO John Chen has begun his tenure at the battered smartphone vendor by shaking up its top executives, eliminating at least two positions in the process.
The New York Times reports that Chen has shown the door to chief operating officer Kristian Tear and chief marketing officer Frank Boulben, both of whom joined the company as part of a team hired by former CEO Thorsten Heins.
Heins himself left earlier in November, following a troubled 22-month stint in the chief executive's chair that saw BlackBerry posting a billion-dollar loss in its most recent quarter.
A company spokesman told the NYT that neither Tear nor Boulben will be replaced, and that BlackBerry will no longer have a COO or a CMO.
In addition, chief financial officer Brian Bidulka has stepped down and will be replaced by James Yersh, who currently serves as BlackBerry's controller and head of compliance. Bidulka will reportedly stay on through the end of the year as an adviser.
A BlackBerry spokesman said he couldn't comment on the motives behind the changes because the company is currently in a "quiet period" leading up to its formal earnings report on December 20. But the fact that BlackBerry has lost its top marketing exec could mean the company plans to refocus on enterprise business, which relies less on marketing than its consumer-facing efforts do.
Chen's background is in enterprise software, having turned around database maker Sybase and presided over its $5.8bn acquisition by SAP in 2010. And BlackBerry's mobile device management and security software has long been favored by enterprises and governments.
Any hopes that BlackBerry will jettison its loss-making handset business were dashed earlier this month, however, when Chen said he believes that division has "enough ingredients to build a long-term sustainable business."
Few on Wall Street seem to agree, and BlackBerry is widely expected to report another dismal quarter marked by losses due to unsold smartphone product.
Investors had better hope it doesn't write off as much as it did last quarter, though. After failing to sell itself off in October, BlackBerry ultimately settled for a tepid bailout plan involving $1bn of new funds loaned by a consortium of investors led by Fairfax Holdings. If last quarter's results are any indication, BlackBerry can blow through that much in three months. ®
Sponsored: How to simplify data protection on Amazon Web Services