Violin Memory's losses are deepening faster than its sales are growing and that is surely unsustainable. El Reg's storage finance desk thinks a shortfall in orders from the federal government exacerbated the stalling of enterprise sales growth – and looming competition and software inadequacies didn't help much either.
As a result, its shares were trading at lows of $2.99 at the tail end of last week and closed at $3.11 – when you compare that to an IPO price of $9 a share, it doesn't look good at all.
Revenues for its third fiscal 2013 quarter, ended 3 October, were $28.3m, 37 per cent higher than a year ago. Wall Street analysts were expecting higher revenues of almost $32m.
The net loss for the quarter was $34.1m, a record. In the preceding quarter it was $30.6m, meaning an increase of 11.3 per cent, and a year ago it was $25.4m, meaning losses have risen 35.3 per cent over the year.
Violin's outlook for the fourth quarter is $30m to $32m, again lower than analyst expectations - of $44m - although 35.5 per cent higher than a year ago (at the $31m mid-point.)
As a result shares crashed, trading now at $3.11, down almost 50 per cent from the $6.00 level seen in the days before the results were announced and a long way down from the IPO price of $9.00.
The full 2013 year revenue would be $110.6m at the mid-point of the fourth quarter outlook, 50 per cent up year-on-year.
Don Basile, CEO of Violin Memory, talked of jam tomorrow: "Our Enterprise Memory Software and Systems are enabling customers to achieve enormous gains in enterprise application performance, and significant cost savings resulting in new levels of productivity. During the quarter, we added 32 new customers and delivered record revenue and gross margins, even in a challenging Federal spending environment."
To provide a picture of Violin's quarterly revenue and net income/loss history we went to the SEC archives for the IPO document.
By combining those numbers with the third quarter fy2013 results we constructed this chart: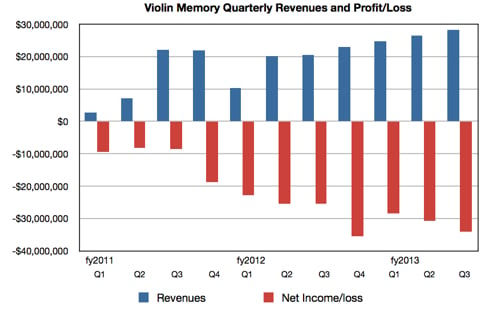 Violin Memory results to Q3 fy2013 - click on chart for larger version
The big revenue dip in the first 2012 quarter probably reflects the effective ending of the HP relationship. To have a wallow in red ink we also graphed the quarterly net income/loss history and that's a gruesome chart: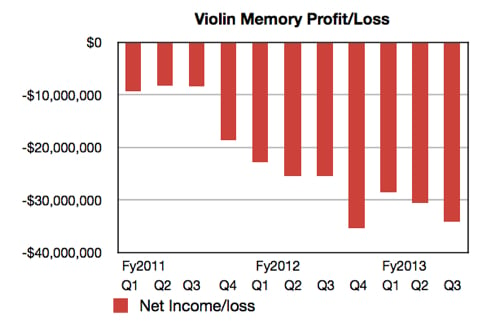 Violin Memory net loss history to Q3 fy2013
What can we glean from this?
Losses are growing faster than sales
With nine months of fiscal 2013 gone and losses of around $92m we can assume fy 2013 will show a deeper loss than the previous year's -$109.1m
Unless sales revenue more than doubles, Violin will not be profitable
Violin needs to radically increase its sales volume and/or cut operating expenses.
In the earnings call, which we listened to, Don Basile said he wasn't satisfied with the results and said the primary contributor was the Federal sequester. Brent Bracelin, a Pacific Crest Securities analyst on the call, asked if there was enterprise sales revenue weakness as well.
Corey Sindelar, Violin's CFO, didn't admit this. He said Violin was tracking $10m of Fed sales at the beginning of the quarter but only booked $2.6m. Basile and Sindelar said the quarter's revenue shortfall was "largely attributed" to the Feds, and the Fed order level was the "primary contributor" to the quarter's revenue shortfall.
They did not say enterprise product sales grew in the quarter. Therefore, El Reg thinks, Violin Memory saw enterprise sales flat or weak in the quarter compared to the previous quarter.
A Bracelin-authored research note said: "This adds to our concerns about Violin Memory's ability to sustain hypergrowth next year, particularly in the face of increasing competitive alternatives in the all-flash array space."
This quarterly result is without the effect of EMC XtremIO array competition as that product's general availability was only announced a few days ago.
PCIe Velocity product sales were low – $1.9m. It is hoped that an OEM agreement with Toshiba will follow ongoing development work but the timing of any such agreement, if it happens, is likely to be in the first half of 2014 with revenues coming in the second half.
The Americas represented 63 per cent of Violin's revenue, with EMEA contributing 17 per cent - ENEA boss Steve Rose was apparently fired or resigned days before the results announcement - and Asia representing 20 per cent. Toshiba resells Violins products in Asia.
Violin gained 32 new customers in the quarter, up slightly from 30 and 31 in the preceding two quarters; no real acceleration there.
Some 38 new staff were added in the quarter, 33 in sales and marketing, taking sales reaps numbers up to 96 with 100 the target. Total headcount is currently 483.
Sterne Agee & Leach analyst Alex Kurtz worked out that new customers are being found by only one in three of Violin's sales reps, according to Bloomberg.
Sindelar said discretionary spending, outside of headcount, would be looked at, with research and development cut back a little in the fourth quarter.
Basile admitted sales were disappointing but said the fundamentals remain strong. But do they? Competition is going to increase; let's just list it:
EMC XtremIO and all-flash VNX
NetApp EF540/550 and coming Flashray
Pure Storage
SolidFire
Dell all-flash Compellent
HDS Flash Accelerator
HP all-flash 3PAR 7450
IBM and its FlashSystem
Cisco and Whiptail
Kaminario
Nimbus Data
Our view is that the lack of data management software, such as native deduplication, in Violin's arrays is an obstacle to sales growth, and could be a fundamental obstacle to such growth, and that the spectre of strengthening competition has stalled Violin's enterprise array sales.
Basile said EMC's XtremIO entry has legitimised the market and is a positive overall. But he would say that.
PCIe card product sales are low, and no big prospects for this product line, other than the Toshiba OEM deal, were laid out for the analysts on the call.
We're told to expect new software announcements in the first half of 2014. Without any idea of what they are, then what we see here is this; he incumbent in the early stage flash array market is fighting a rearguard action to maintain its position amidst much stronger competition from EMC, NetApp and the other mainstream vendors.
The picture we have right now is that Violin is resourced and staffed up for a much higher rate of growth than the products are actually delivering.
Its burning cash at the rate of $28m a quarter, currently, and has $134m in cash and investments; sufficient for a few more quarters. Its strategy is to go for growth with its current products, hope customers buy more of them, and hope the Toshiba PCIe card OEM deal happens and delivers the goods, before its cash runs out.
Like Fusion-io, Violin Memory has sprinted towards an IPO and then come an almighty cropper. The goods on display in the shop aren't attracting enough customers.
If the current CEO can't get revenues up, and up dramatically, then his tenure will be called into question. Investors don't think he can do it, hence the share price crash. ®