Reg man inhales the smooth, non-cancerous, taste of USB nicotine
Do e-cigarettes give you a dose of the vapours or a breath of fresh air?
Electronic cigarettes, also known as e-cigs or vapes, sound like a great idea because they deliver a nicotine hit in a familiar form factor, but without the nasty stuff you'll find in conventional smokes.
The jury's out on whether they're safe, with a University of Queensland study attracting criticism almost before it began, but my own desperate need to actually get off the gaspers meant this Vulture South hack had already started down the e-cig road with mixed success. The chance to conduct a field trial of different e-cigs was therefore too good to miss.
I tested four e-cigs, namely:
The Ego-T
The Ego-510
The Ego cigarette-style
The Kanger Tank
Each of these products is available as a starter kit that comes with USB battery charger and a wall wart to which one attaches the charger.
All e-cigarettes do the same thing: they run a juice over a heated element to create a vapour. The juice consists of flavour agents, two vapour agents (VG, vegetable glycerine; and PG, propylene glycol – more on this later), and nicotine.
Instead of smoke, the vapour is nearly all water vapour, and that's what proponents put forward as the big plus of the e-cigarette. Without all the nasties that go into making tobacco cigarettes, they've got to be safer. This remains a contentious point – the experts point out that nicotine is not harmless. But I'm happy to sit on the fence, and say that an e-cigarette is at least "safer" than tobacco, and list it as "harm minimisation".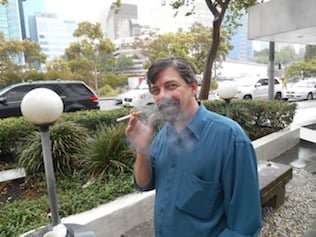 Reg hack Richard Chirgwin furtively puffing outside
the Vulture South office on a rainy day.
The basic components of the construction are the same, in spite of the different dimensions of each e-cig. There's a battery, which is detachable (naturally enough, since you need to charge it); and the tank with the heating element.
Mixing the e-juice is way beyond the scope of this article. It's a discipline that seems to have revived alchemy. Dedicated vapers will run up their own flavours starting from scratch – disdaining pre-mixed flavours, they'll haunt vape forums explaining the right use of vanilla, cloves, citrus peel, eye of newt and tongue of frog.
However, there are some things you need to know about the juice, which I've gathered together at the end of this article.
That's not my style, but it poses a problem for someone trying to review the hardware, because the flavours are (naturally) a very big part of the experience, and the reaction to a flavour is idiosyncratic. My wife and I are trying to quit from the same brand of tobacco cigarettes, but flavours I find acceptable are far to sweet for her taste.
So to be fair in this test, I used just one flavour juice, which brands itself as an imitation of the flavour of a tobacco brand that also makes high-end mens apparel, blended 50-50 with nicotine (which itself is mixed with PG and VG in equal measures). That way, I reasoned, differences in flavour and experience should be down to the different hardware.
With all four test units, I also made sure I started with clean tanks (for the units I'd bought), so that the brand-new review units didn't have an unfair advantage.
Each review looks at five characteristics of the e-cigs: ease of use (including filling); cleanability; battery life; recharge time; and build quality.