This article is more than 1 year old
You DON'T need a new MacBook! Reg man fiddles with Fusion, pimps out vintage Pro
Old school Unibody upgrading with Mavericks and storage tricks...
Give it some stick
Since I would have the back off the Mac soon, I whipped out the Mac's old SSD and put the 30GB drive in its place and then went through the motions of using DiskMakerX. After not too long – you might want to make a cup of tea, though – I had a bootable installer on an 8GB USB stick.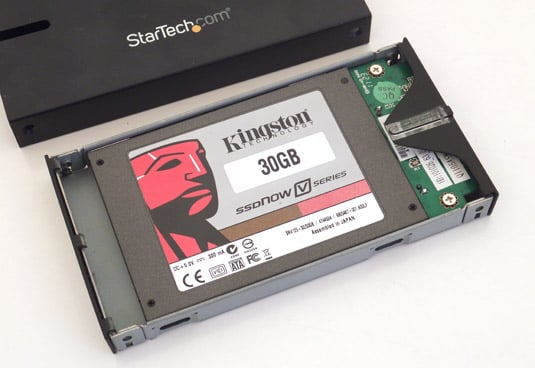 A handy bootable external 30GB SSD used for diagnostics and can be temporarily installed inside the Mac for various other duties that rely on the internal SATA bus
Just to be on the safe side, I tested out the freshly made installer on another 30GB SSD I have spare. That drive was temporarily attached to the SATA bus of the MacBook Pro. The computer was then booted from the USB stick and then the 30GB SSD wiped clean using the installer's own disk utilities and then the OS installed onto the SSD.
Time passed but soon enough I had a clean Mavericks install which would come in handy. After all, the MacBook Pro was soon to be kitted out with a 480GB Kingston Hyper X SSD and the 750GB Seagate Momentus HDD. I'd be booting with the 30GB Mavericks SSD from an external USB enclosure to set up the Kingston and Seagate storage as a Fusion drive.
Caddy shacks
Ah, 1.2TB of storage on a laptop. Now that's what I call a desktop replacement! Yet there was still more to do. That optical drive had got to go for a start, to be replaced with an HDD caddy to fit in the cavity. I'm reliably informed that those looking for a cheap caddy on-line can easily make the mistake of buying one designed for PCs and featuring a SATA to IDE interface. Pah! Amateurs, looking for a bargain, what do they know?
So when my second caddy arrived with its SATA to SATA interfacing, I set to work.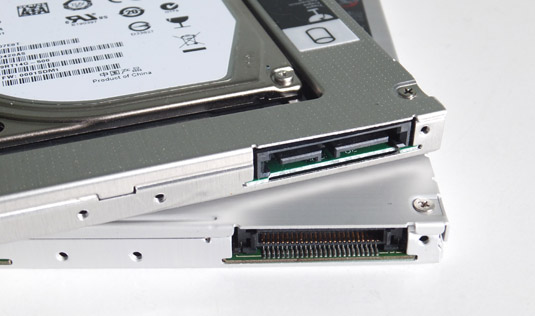 Not all on-line retailers detail important caddy differences: the top one is the SATA to SATA type you'll need for the Mac. Below it is a SATA to IDE type with very different connectivity used on some PC laptops
You'll find iFixit has covered dual drive installation but I cut a few corners and skipped a few steps, so to speak. For instance, I simply unscrewed the Bluetooth board that's attached to the optical drive by two screws, rather than get messy with its housing and detaching wires. I can't see why they bothered.
One other thing about the caddy, the drive is held in place by long screws that are buried in the casing and need a Philips screwdriver with a narrow shaft to be able to reach them. A Torx 7 screwdriver was required too, to swap over the internal drive stud mounts, and for a small, curious detachable bracket by the optical drive, that can get in the way when you're trying to unscrew this DVD writer from the base.
Putting everything in place didn't require any major effort and what I would discover now was whether Mavericks would introduce any weirdness to Stein's Fusion method. Indeed, this was one of the reasons why I went to all the trouble of creating a fully working bootable Mavericks drive, rather than initiate it all using Mountain Lion (OS X 10.8).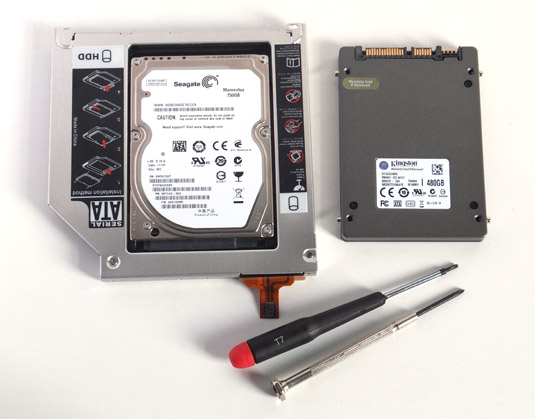 Seagate Momentus 750GB HDD in caddy alongside a Kingston HyperX 480GB SSD
From the various sources I've seen that have checked out this build your own fusion drive process, none appear to have tried Mavericks and few have actually refreshed these instructions to highlight what you need to know. Stein was analysing this storage combination and running tests, so a great deal of the Terminal script he presents is irrelevant. It's interesting, sure, but not necessary.
Bunched together, all these commands look way too scary for the CLI challenged, but there's really bugger all that needs doing. The process should even be possible using the Terminal app available from the actual installer's menu bar, but I'll stick with using a fully loaded boot drive.