This article is more than 1 year old
Indy devs to AOL: Save Winamp, or at least make it open source
Petition aims to stay Nullsoft executioner's axe
A petition to save the doomed media player Winamp has already garnered more than 15,000 signatures, but the software's parent company has yet to show any signs of reversing its decision.
Nullsoft, the AOL subsidiary that has developed Winamp for the last 15 years, announced last week that the software will reach the end of its life on December 20. Not only will the media player itself no longer be available for download, but even its website is due to disappear.
Now a Change.org petition started by Melbourne, Australia–based web developer Peter Zawacki asks AOL to continue development of Winamp – or failing that, to give it a new lease on life by releasing the code as an open-source project.
"Winamp is the best media player ever built," Zawacki's petition site states. "If there were other alternatives that would be fine. But there is nothing that can do what Winamp can do. It is the most versatile media player on Earth."
An accompanying website goes as far as to invite developers who would like to work on the Winamp source code to get in touch, and many of the supporters of the effort whose names are listed on the site identify themselves as programmers.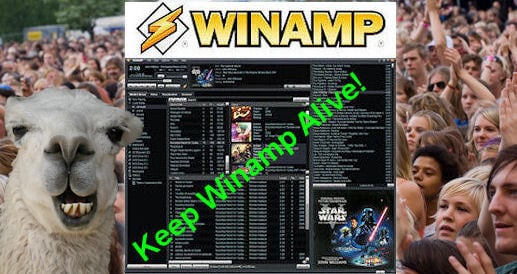 Peter Zawacki is hoping that amassing enough signatures will convince AOL to open source Winamp
"If AOL allows it to go open source it WILL live on forever and be in the hands of people who love it and use it every day," the petition reads. "AOL, keep Winamp alive or let it go open source."
Unfortunately for Winamp fans, so far AOL has had little to say on the subject. It hasn't issued a press release or even a blog post so far. The world first learned of Winamp's impending demise from a brief notice posted on the software's official website that gave nothing by way of explanation, saying only that the property would vanish in December.
El Reg has tried to contact both Nullsoft and its parent, AOL, but neither company has responded to our queries so far.
Whether it will respond when Zawacki delivers his petition remains to be seen. Zawacki is seeking 25,000 signatures and he has just 25 days left before Nullsoft pulls the plug on Winamp. ®