This article is more than 1 year old
HP's ENORMO-SLAB: The Slate 21 MONSTER tablet
The 21-inch, 1080p Android tablet that thinks it's an all-in-one desktop PC
Review Hewlett-Packard's first attempt at an Android tablet, the Slate 7, was a cheap, wretched and irredeemably awful device. So when I heard that the Palm killer's follow-up fondleslab was to be a 21-inch affair, my reaction was one of incredulity mixed with foreboding.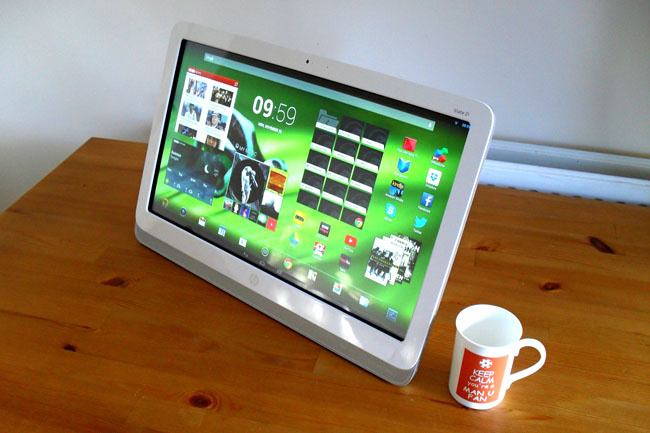 Your new desktop? HP's Android-based Slate 21
In short, I expected a bad idea poorly executed. I'm happy to report I was wrong on both counts. The HP Slate 21 is a rather good notion realised equally well.
With a 21-inch screen, the new Slate was never going to be small or light. It weighs 4.9kg and measures up at 531 x 354 x 67mm – about the same size and weight as a budget 21-inch telly. Of course HP isn't suggesting that you carry the Slate 21 around with you. The idea is that you use it at home as a contraption that is part family tablet, part media centre and part occasional-use computer.
Made from gloss white plastic, the Slate 21 is a decently smart and solid affair which should look right at home in any lounge, bedroom or kitchen. In fact it looks much like a Windows all-in-one PC. It's nowhere near as sleek and sexy as a 21.5-inch iMac, but one of those will set you back more than three times as much - £1,149 ($1,299 Stateside) versus £349 ($399 in the US).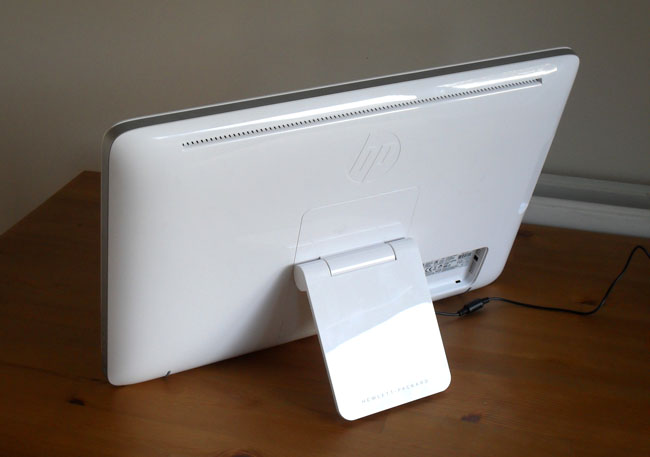 The stand is rigged to support any angle between 15 and 70 degrees
To keep things from looking too fussy, controls have been kept to the minimum with the brightness, volume and power buttons all tucked away on the lower right side.
A stand at the back props this large bit of weirdness up. Rather than having a selection of fixed positions, it's heavily spring-loaded so it can support any angle from 15 to 70 degrees. To adjust it you simply push the top of the unit back or lift it forward, and the stand adjusts automatically to maintain the angle. Simple but effective. Just make sure you don't push it back until the stand slips off the edge of the table.
Unscrew the hinge and there is a standard VESA mount behind for fixing the Slate to a wall.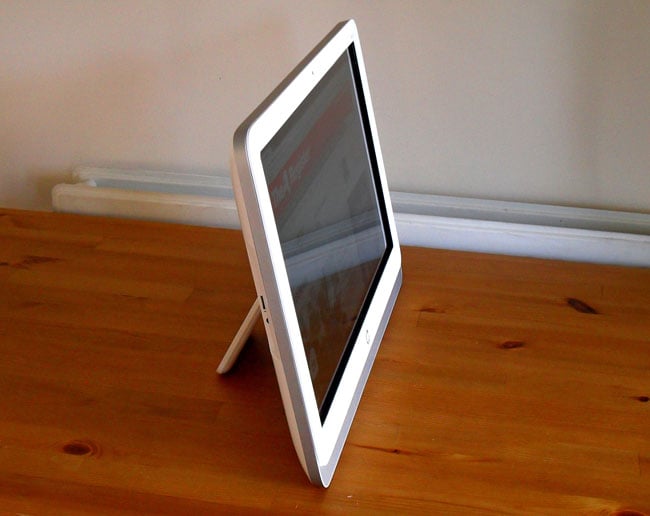 Please be upstanding...
With three USB 2.0 ports and an 10/100Mbps Ethernet socket, the Slate 21 is reasonably well connected. On the wireless side you get Bluetooth 3.0 and dual-band 802.11n Wi-Fi. There's only 8GB of internal storage, just under 5GB of which is free after system demands, but an SD card slot and those three USB ports makes that less of an issue.
The memory card slot, along with the 3.5mm audio jack and one of the USB ports, are easily accessible on the left of the machine. The other two USBs, the Ethernet port and power jack are tucked away at the back. I suspect the idea is that you keep more permanently attached peripherals plugged into the connectors at the back and use the side ones for the things more often unplugged but life would be easier if all the connectors were on the left side. There seems to be ample room
The screen is the Slate 21's strong-point. A 21.5-inch, 1920 x 1080 IPS LCD affair, it's bright enough for indoor use. It's sharp, colourful and good to look at from almost any viewing angle. The last fact is rather important because HP sees the Slate 21 as a device the family will huddle around. Narrow viewing angles would have put the kibosh on that.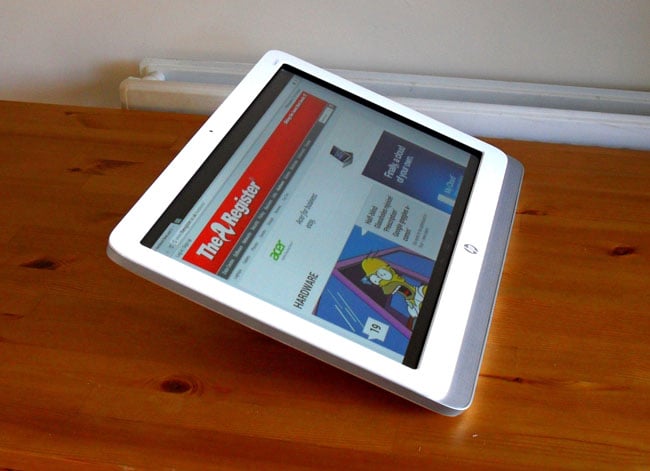 ...or just laid back
The touchscreen is an optical affair. Three cameras keep track of where and how you tap, stroke or fondle it. It works just as well as a capacitive display as per an iPad or Nexus 7, at least until you notice that it can only recognise two points of contact at any given time. That may limit some people's usage but didn't pose a problem for me.