Telly vision
A more useful side effect of this set-up is that you can use the touchscreen with the blunt end of a wooden spoon should you be scrolling through a recipe while cooking with hands covered in flour.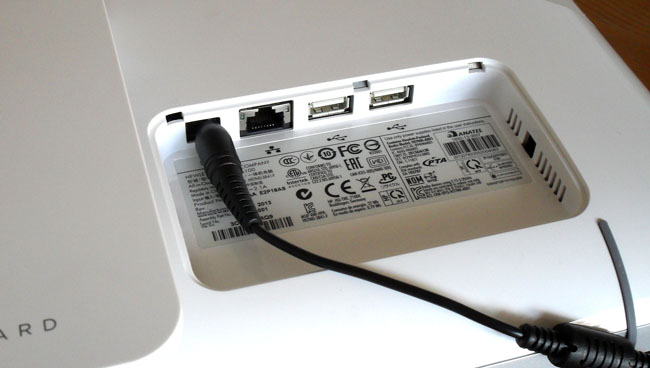 Some of the ports are hidden round the back, all-in-one style
The only small visual criticism I can make of the display is that is rather reflective, something you notice if using it in a brightly lit room. The optical tracking system necessitates a gap of around 5mm between the screen and the plastic bezel, and this feels a bit odd when you make an edge-inward swipe, a gesture Android increasingly depends upon.
Below the screen sit a pair of DTS+ enhanced speakers which produce an impressive sound with plenty of volume and depth. Make no mistake, the combination of a fine screen and a good pair of speakers make the Slate 21 a very useful media centre whether you are accessing local media or streaming content from the likes of Netflix or BBC iPlayer.
HP has fitted the Slate 21 with its own media centre app for playing music and video, and viewing picture files. It's a decent app and, perhaps more importantly, one of the few extras that HP has added to Android 4.2.2, here presented in largely stock form.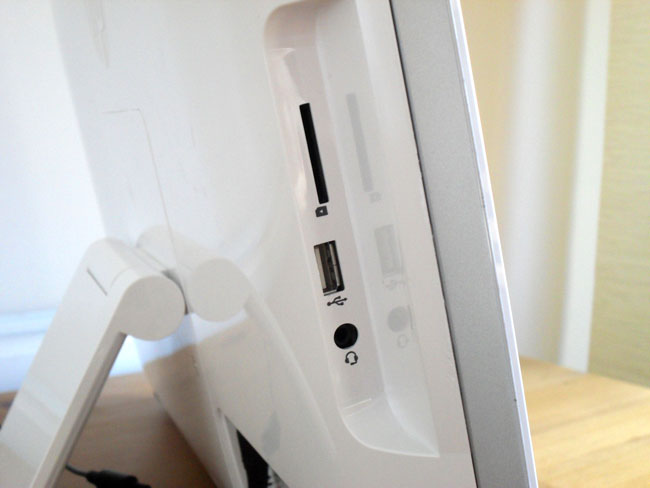 Other ports are on the left - and set in very glossy plastic
Yes, the Slate 21 also comes with a couple of third-party apps, including Evernote and Kingsoft Office, but these can easily be removed as you would any other downloaded app. If you want to access your Windows desktop, the Splashtop 2 app is also pre-loaded and there's a handy 25GB of free Box storage for purchasers.
Above the screen sits a webcam capable of recording video at 720p, and a microphone for Skyping, Google Hangout-ing or however else you get your video call jollies. There is simple camera app if you are into making video selfies.
Thanks to a quad-core 1.66GHz Nvidia Tegra 4 chipset with 1GB of RAM, the Slate 21 is a powerful machine. It returned an AnTuTu benchmark score of well over 30,000. That number does flatter to device just a little though because while the user interface runs with an acceptable level of fluidity - think Nexus 7 2012 rather than the new super-slick 2013 version - there is the occasional hesitation while it rebuilds desktop widgets when transferring back to the home screen.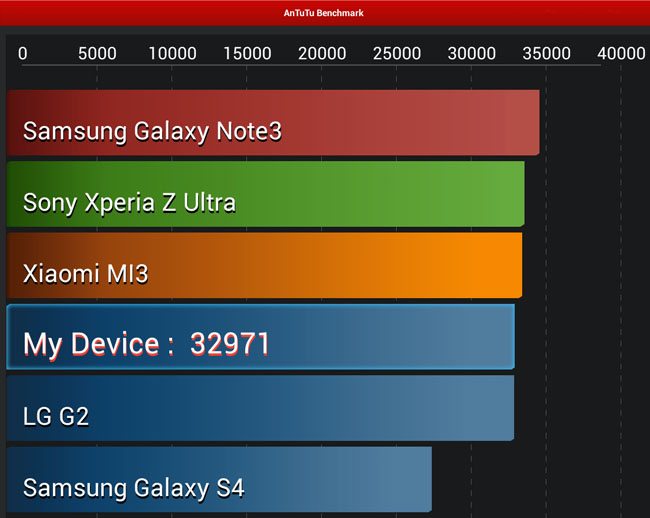 AnTuTu benchmark results
Thanks to those USB ports you can easily connect the Slate 21 to mice, keyboards and hard drives, and so press the Slate 21 for the jobs normally reserved for a Windows PC. I wrote this review on the Slate 21 using OfficeSuite Pro and the Microsoft trackball and Logitech keyboard usually connected to my laptop. They worked just fine.
Matters become a little less straightforward when it comes to printing. HP's Printer Control app only seems to work with HP wireless printers, certainly it was no help when I tried to connect my Canon MP250 via USB, so I resorted to Google's Cloud Print service.
Just about now someone is going to say something about Android lacking tablet optimised apps. Big deal. The majority of apps I tried on the Slate 21 looked the same, and worked just as well, as they do on the likes of the Xperia Z Tablet or the Nexus 10.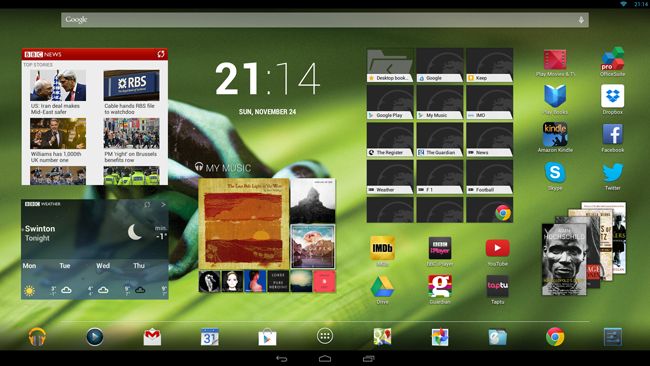 The 21-inch, 1080p screen gives plenty of room for desktop icons and widgets
I say "majority" because the Flickr app shows up in the Play Store as unsuitable as did a few banking apps and, oddly, Google's Keep app - though you can access Keep through the Drive app. The Android keyboard looks a trifle odd when pasted across a large screen, but SwiftKey offers all the options if you want either a smaller or split keyboard.