Tablet looks, desktop experience
Taken in the round, the Slate 21 user experience really doesn't look or feel like a PC running a tablet OS.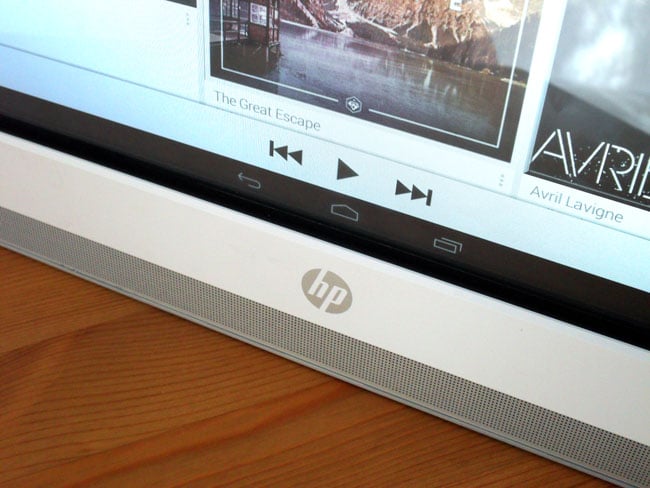 The speaker is surprisingly good, for a tablet
I've read some criticism in the US press - hacks across the pond got their grubby mitts on the Slate 21 well ahead of us scribblers in Blighty - of the Slate 21 for lacking an accelerometer or a GPS chip but frankly that's daft. The 21 is so clearly not intended to be portable or held in your hands that stripping it of two bits of functionality that are wholly aimed at handheld devices seems a reasonable course for HP to have taken to keep the price down.
You can't use the Slate 21 away from the mains because there is no battery. Some may quibble about that, and I must say that a small internal battery able to support 20 or 30 minutes of runtime when you are moving the thing between power sockets would be handy. On the other hand it boots up in less than ten seconds so that really isn't a massive hardship and certainly not a deal breaker.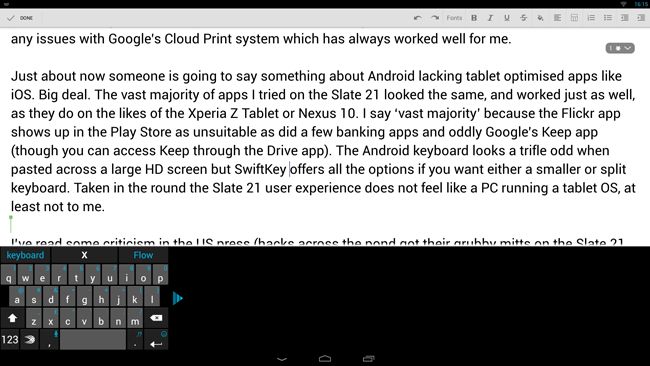 SwiftKey has more adaptability for a big screen
The 21's Achilles Heel, such as it is, is gaming. If you move beyond the likes of Angry Birds, it's not much cop. The size, weight and lack of an accelerometer means that trying to use it as a conventional tablet is out of the question, and even games which have a gamepad setup option, such as Dead Trigger 2, wouldn't work with my generic USB game controller. To be quite honest I didn't expect it to and you may get better mileage by using something like GameStop's Tablet Wireless Game Controller for Android.
Using the touchscreen it was just possible to play games like N.O.V.A. 3 which have no gamepad support but it was not ideal. That's a shame because it looked absolutely superb and ran very smoothly, proving the 21 has the chops to run graphically intense games.
One final comment needs to be made about the Slate 21 at the risk of stating the bleedin' obvious. How much reward you get from a Slate 21 will depend on how invested you are in Google's online services. Me? I'm up to my ears in them: Play Music, Play Books, Drive, Picasa – or Google+ Photos as it's probably better to call it these days – I use them all, daily, so as soon as I signed into my Slate 21 all my stuff was just there.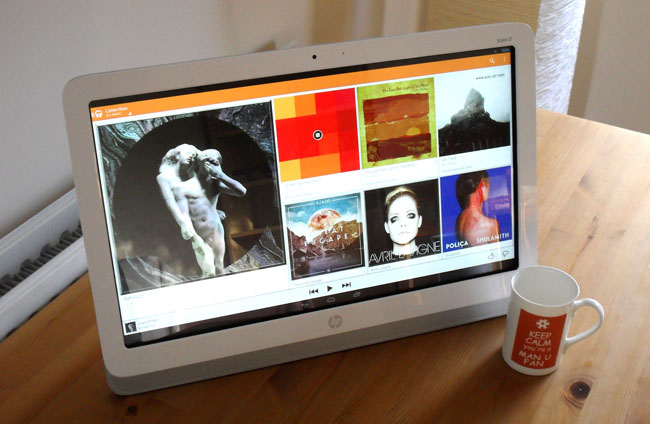 Not too good for gaming?
Naturally that has coloured my opinion of the machine. If I used iOS or Windows Phone on my mobile devices, I'd be less taken by the Slate 21, there's no point saying otherwise. The less Google there is in your bloodstream, the less appealing the Slate 21 will be, though you could say exactly the same about any tablet.
The Reg Verdict
If you're after something for domestic web browsing, light computing duties, social networking and media consumption, the HP Slate 21 has plenty to recommend it. It's powerful, affordable, easy on the eye, comes with all the expected Android/Google goodies and services, and has a great screen and speaker combination.
It may be an answer to a question you've not asked, but it's an impressive answer nonetheless. HP's PR wallahs are going to have to go some to prise this one away from me. ®

HP's ENORMO-SLAB: The Slate 21 MONSTER tablet
Not so much a carry-around tablet as a readily portable all-in-one desktop, the HP Slate 21 has a great screen and runs Android.