This article is more than 1 year old
Samsung and HTC face Android 3D graphics test chart removal SHAME
Benchmark monitor sends alleged test cheats to the back of the class
Benchmark software operation Futuremark has said it believes Samsung and HTC have attempted to rig the results its graphics testing app, 3DMark Android, yields when run on four of the two manufacturers' most popular devices.
According to Futuremark, "when a device is suspected of breaking our rules it is delisted". Among those that have been delisted - in other words, sent right to the bottom of Futuremark's official performance chart and stripped of their scores - are HTC's One and One Mini smartphones, and Samsung's Galaxy Note and Galaxy Note III tablets.
"People rely on Futuremark benchmarks to produce accurate and unbiased results," said Futuremark President Oliver Baltuch. "That's why we have clear rules for hardware manufacturers and software developers that specify how a platform can interact with our benchmark software.
"In simple terms, a device must run our benchmarks without modification as if they were any other application."
Futuremark reckons HTC and Samsung have gamed its tests by performing such modifications on the aforementioned gadgets. Common tricks to rig benchmarks include tweaking the operating system to recognise when a given binary is running - 3DMark, say - and up the GPU clock speed above its standard setting.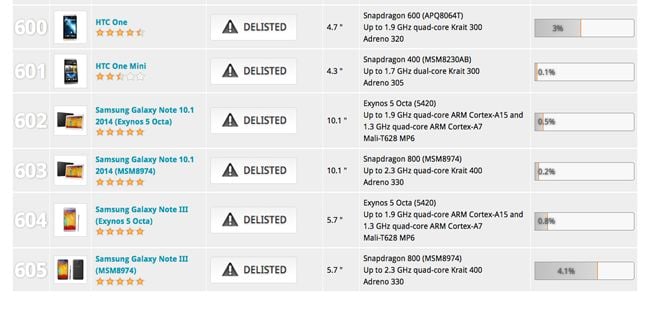 Futuremark's 3DMark chart delisted entries
"The platform may not detect the launch of the benchmark executable," say the regulations. "The platform must not alter, replace or override any parameters or parts of the test, nor modify the usual functioning of the platform based on the detection of the benchmark."
But it's important to note that manufacturers have many other devices in Futuremark's chart that have not been shamed with a delisting.
Futuremark insisted both Samsung and HTC may appeal against its decision to delist their devices. It also called on users to actively report any 3DMark Android scores they believe are suspect.
Futuremark's action follows allegations made by website AnandTech that almost a shockingly wide variety of Android devices cheat when running one or more standard benchmarks. Samsung, for one, has denied the claim.
The latest version of 3DMark Android, 1.2.0.1232, is available now on Google Play. ®