Analysis Two weeks ago Motorola launched a cheap-as-chips Android phone that by common consent, isn't actually nasty. Quite rightly, the new Motorola Moto G has shot to the top of the picks of smartphones in the sub-£150 price point. In fact, you can pick one up without contract from Amazon for £135.
Android has been this cheap before. In fact, in China, Android handsets can be bought for $30 - but Android has never really been cheap and not nasty. Here at El Reg, we've been calling it "Landfill Android" (after "Landfill Indie"), by which phrase we define cheap handsets tricked out with meagre processors, meagre battery and sub-par screen. Naturally, such handsets were abandoned by their manufacturers as soon as they left the factory (hence "Landfill"). Stutter and lag were guaranteed. So the phrase caught on because everyone really knew it to be true. Well, no more: the Moto G proves cheap doesn't have to be nasty.
What makes the G a steal? A couple of things, I think. There's plenty of thought put into the design - it's comfortable and nice to hold. The screen is bright and sharp. Moto hasn't skimped on the processor, and even the camera is OK. Certainly, corners have been cut: £135 will buy you a handset with just 8GB on board, from which Android has already guzzled a few GB - and there's no SD expansion. Coming from Windows Phone or BB10, neither of which can be considered anywhere near "finished", I still found Android to be nowhere near as slick.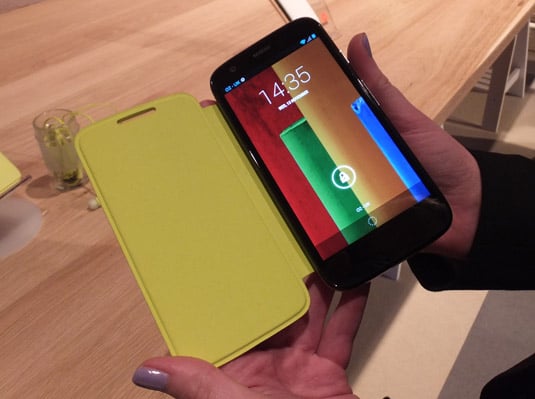 I grew weary of email widgets that never update, of having to reconnect to my Wi-Fi at random, and of having to close down apps. I missed the far more professional messaging of BB10, and the very flexible "pinboard" that Windows Phone offers you. Android continues to improve, and the Moto G shows this improvement can be felt on cheap hardware too. Yet Android is very much like Windows 3.x was 20 years ago: nobody bought a PC for Windows 3.x, they bought it for the apps: it was the cheapest way of getting a computer with a GUI without paying the Apple tax. So too today, Android gets you every major app. It does a job, and I can't fault anyone with very little cash to spare for choosing a G.
But across the industry there are a lot of raised eyebrows about how Motorola has managed to make the G so cheap.
"If there is any margin, it must be razor thin," CCS Insight analyst Ben Wood told us. It's not uncommon, he notes, for a company that needs to make a comeback to use a loss leader. It's four years since Motorola was a premium brand in Europe, so it was a comeback candidate - it needed to get ranged again by retailers and operators, having fallen off their lists. The G certainly makes a splash.
(Remember that Google's own Nexus 5 is also keenly priced.)
Google has watched while Microsoft grabbed 10 per cent in major markets with Nokia making better phones in the sub-€100 and sub-€150 points, and it knows the experience is sub-par. Not only is it continuing to optimise Android for cheap hardware - it's buying its way out of Landfill Android.
Apple has certainly helped here: it's done everything it could to help Android to 80 per cent global market share. Apple has retained its premium pricing and big margins, and the long-awaited, much needed makeover for iOS7 is an amateurish mess. Purely from anecdotal experience, if you offered iPhone users the new popup control panel and multitasking, yet retained everything else about the old Look 'n'Feel, they'd bite your hand off to get it. Android looks slicker with each iteration - at least at the surface level.
Yet Google doesn't do anything altruistically - but for competitive reasons. Google can afford to throw loss leaders at the market because it's a $50bn company. "Unless you have enormous scale it will be hard to compete with Apple or Samsung," predicts Wood. And Google wants to be there. Just as in any other industry, being gigantic helps keeps smaller more innovative rivals out of the market.
And this is where the true cost of "cheap" begins to emerge. For the real price you have to factor in the competitive consequences. Supporting loss leaders today means you'll pay higher prices tomorrow. Unless, that is, Google is prepared to make loss-leading phones forever. ®