This article is more than 1 year old
Kobo Arc 10HD: The bookworm's fondleslab?
Android quad-core speed reader – unless you want to read PDFs, that is
Review If you're in the tablets game, then delivering hi-res models in various form factors seems to have been this year's preoccupation. Among the myriad hordes pushing out Android fondleslabs are those in the ebook sector – and Canadian e-ink vendor Kobo has done just that, with a screen that's even sharper than the new iPad Air.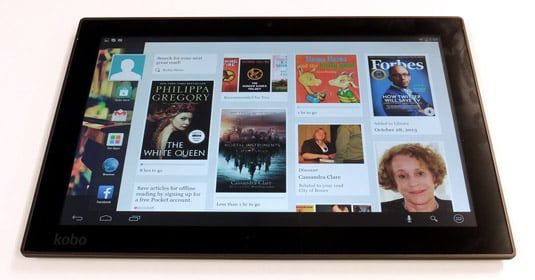 Kobo Arc 10HD Android tablet
The likes of Amazon, Barnes & Noble and Kobo, to name a few, have their fingers in both pies, churning out e-ink one-trick ponies for the discerning reader with a glacial battery life chalking up weeks, as well as offering all-colour Googlefests on tablets that run for a matter of hours. Each has their own store too, with various format foibles.
Why you'd want to buy a bookseller-branded Android tablet over one provided by a seasoned tech vendor is another matter. Yet Kobo and co reckon that if you're a bookworm at heart but want more than just an e-reader, then it can offer that little bit extra with some bespoke software enticements.
Certainly, Kobo has revised its Tapestries interface – first seen earlier this year on its 7in Arc tablet – to deliver an entirely different bookshelf experience on its latest Arc 7HD and Arc 10HD. This window dressing features customisable Collections to organise content from disparate sources. On the 10-incher I have in my hand, these enhancements take advantage of the larger form factor, adding oodles of of eye candy with its 2560 x 1600 pixel, 300ppi display (a higher resolution than that of the the Air at 2048 x 1536 pixels and a 264ppi display).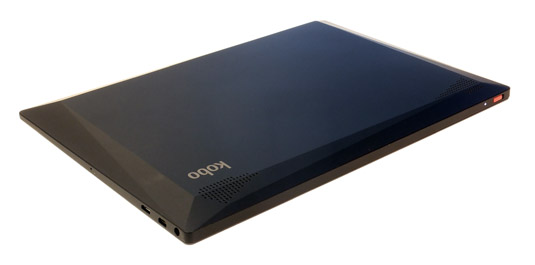 Reader-friendly shape and doesn't get too warm either
At 253 x 172 x 10mm and 627g it makes no claims to be the lightest or the slimmest and has an angular, soft-touch back that makes it easier for the reader to grasp. Running the show on the Arc 10HD is a 1.8GHz quad-core Nvidia Tegra 4 T40S chipset and 2GB of DDR3L RAM. There's 16GB of storage on-board, but alas no micro SD expansion. However, at about £40 cheaper than most tablets of this size and resolution, Kobo does at least make compensations.
As far as audio-visual excitement goes, you have 1.3Mp front facing webcam, built-in mic and a headphone socket. The speakers at the back are stereo – and you can hear the separation too – but in terms of volume, they appear to have been designed for use in a library, as they whisper rather than bellow. There are EQ settings but don't expect to hear more bass with any tweaks, just less treble. Still, headphones or hooking up to a speaker system either with a mini-jack or Bluetooth will take care of those shortcomings.
Another entertainment alternative is the micro HDMI socket, that sits between the headphone and micro USB port for charging and file transfer. Besides video playback, you can play music through the interface. I tried this out with an adapter as well as 720p and 1080p movie content. This all worked as it should although the frame rate wasn't always smooth on the 1080p MP4 playback.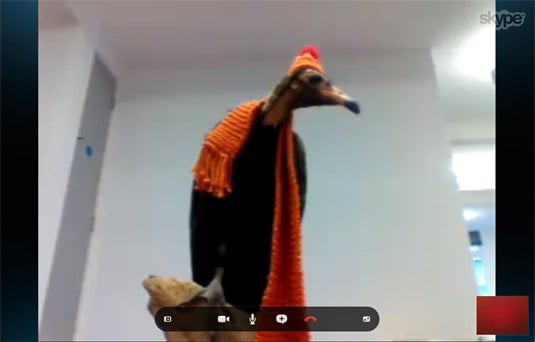 Skype on the front facing camera is rather bleary
The Kobo Arc 10HD runs Android 4.2.2 and although the company did update the original Arc from Ice Cream Sandwich (4.0) to Jelly Bean (4.1) it's not had any further movement, so it's anyone's guess if the HD models will eventually get up to Kit Kat (4.4). Still, the Android app store is no walled garden of the Kindle persuasion. It's the Google Play store where you're free to wander and, if you're so inclined, download reader apps from other eBook vendors.