DEATH-PROOF your old XP netbook: 5 OSes to bring it back to life
Or: How to talk your child out of using an iPad..
Peppermint
When we covered the demise of Jolicloud on the desktop, a few commenters mentioned Peppermint as a decent alternative, thanks largely to its Ice application that allows the creation of single-site browsers (SSBs).
For those not familiar with SSBs, they spawn a single website into a dedicated window stripped of all navigational elements. That window also appears as if it were an executable when you ALT-TAB between programs. Chrome's had SSB facilities for years (but not in its Mac OS incarnation), but Firefox ditched the idea and the Prism plug-in that made it possible (and is probably glad it did now that Prism means something else entirely). Some folks swear by SSBs, plenty more get by without them.
Peppermint thinks they're so good it has an app called "Ice" that makes them and embeds shortcuts to the SSBs you create in the "Internet" menu that appears when you click on the bottom-right-corner start button clone. Some of the applications are actually web apps, but it's also possible to install software onto the hard drive.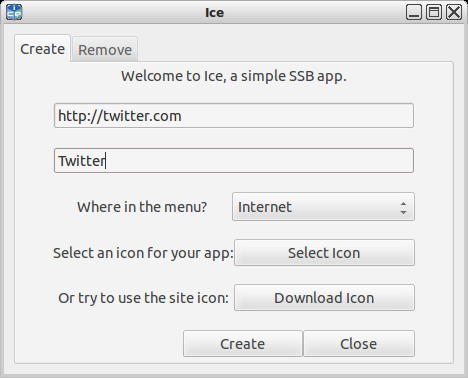 Peppermint OS's Ice single-site browser creation tool
Mr 12 found Peppermint's games, couldn't find a word processor and wrote it off immediately. And fair enough too because it is yet another Linux and Ice doesn't make it stand out from the pack.
Conclusion
To my eternal shame, Mr 12 is shy of the command line and so exposed to modern gadgets that the Linuxes tested didn't excite him. Windows 8 wasn't fast enough or sufficiently well-behaved to win his approval, while Jolicloud was just too weird. Having said that, he's played with Chromebooks and is leaning towards one as his school computer.
For me, if I had to spend serious time on this machine I would follow Redmond's advice and go with Windows 7. If the machine slowed significantly, I'd boot into Ubuntu from USB. ®
Bootnote: This whole test turned out to be moot because during testing the netbook's battery gave up the ghost: it will now only run when plugged in. I'm therefore hunting for a dedicated Bitcoin-mining OS to install on the hard drive, because with a 20v 2.0A power supply, I suspect it might just pay for itself if it ever mints a coin. Either that or a security-camera-centric OS to put its webcam to work as a view-from-afar burglar-spotter.