Mass Effect: Ten lightweight laptops that won't bust your back
A selection of skinny notebooks that put the 'ability' in 'portability'
Product Roundup The arrival of Intel's Haswell processors this year promised a new generation of ultraportable laptops that would be slimmer, lighter and provide better battery life than ever before.
With that in mind, El Reg decided to round up 10 of the lightest laptops that we could find and see if they really delivered the goods. Not every manufacturer has gone down the Haswell route yet, but the lightest designs and longest-battery life do generally come from Haswell kit – for example Sony's absurdly light Vaio Pro, or the genuinely impressive battery life of the latest MacBook Air.
However, ultralight designs do involve compromises. Performance, for the most part, is pretty good, but many of these laptops have limited connectivity, while build quality and screen quality don't always justify the high prices that these machines command.
There's plenty of variety, though, so take a closer look and see which of these ultra-portable laptops deserves a place in your travel bag.
Acer Aspire S7-391

There's a "Pro" version of the S7 in the works that will add a Haswell processor, as well as a RAID SSD setup that sounds rather tempting. In the meantime, though, the original S7 is still a fine, lightweight piece of kit.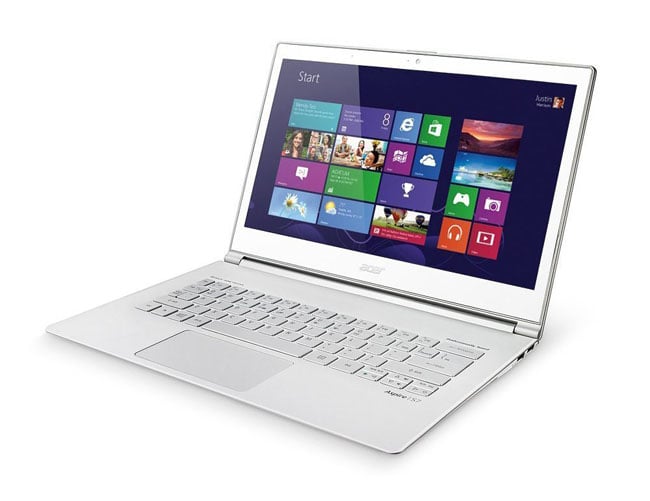 It's a real looker, with a white-tinted Gorilla Glass top panel that measures a mere 13mm thick and keeps the weight down to just 1.3kg. The 13.3-inch touch-sensitive display provides a 1920 x 1080 resolution with a bright, sharp image and good viewing angles – although these are marred somewhat by the highly reflective gloss screen coating.
The only disadvantage of the minimalist design is limited connectivity. There are just two USB 3.0 ports and no Ethernet at all – although Acer gets brownie points for bundling an USB-to-Ethernet adaptor rather than charging an extra 25 quid for it as Apple does.
Prices start at around £869 for the entry-level model reviewed here, which has an Ivy Bridge Core i5 processor running at 1.7GHz, along with 4GB of memory and 128GB of solid-state storage. Its score of 4570 when running PCMark 7 is more than adequate for running productivity apps and performing web browsing duties, although its limited battery life – just four hours and 10 minutes of streaming video – cries out for that Haswell update.
Price £870
More info Acer
Apple MacBook Air 13-inch

The MacBook Air is the "Ur" Ultrabook: the one that defined the category even before Intel's marketing 'droids came up with a name for it. However, the 2013 edition is starting to show the line's age a little.
It's certainly neither the slimmest nor lightest laptop around, and the 1440 x 900 resolution of the 13-inch model is looking a bit dated – as is that wide metal bezel that runs right around the edge of the screen.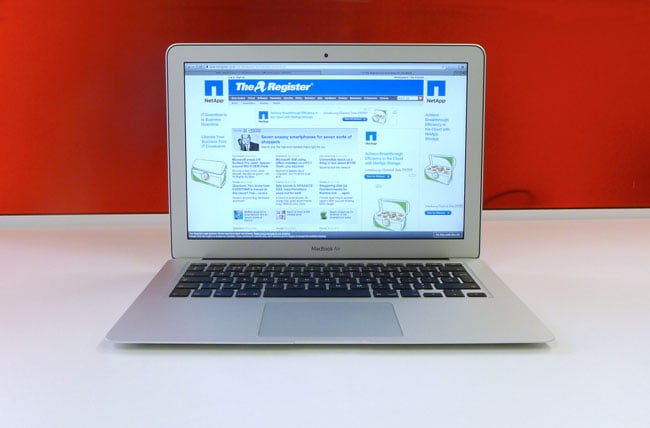 The limited connectivity remains an annoyance too, with just two USB 3.0 ports and no Ethernet, which gives Apple an excuse to charge through the nose for extra adaptors that many of its rivals give you for free. Even so, the sheer quality of the Air's one-piece aluminium design is still hard to beat, and at just 1.35kg and 17mm thick it remains a delight to carry around and use.
And, crucially, this year's Haswell update also taught this old dog a new trick that outweighs all those criticisms: the 13-inch MacBook Air can now deliver a full ten hours of streaming video, and more casual web use should allow you to keep going for at least 12-13 hours.
And while the MacBook Air is by no means cheap, its starting price of £949 for a Haswell Core i5 running at 1.3GHz, 4GB of memory and a 128GB solid-state drive doesn't look too bad alongside its Windows Ultrabook rivals.
Price £949
More info Apple