This article is more than 1 year old
Mass Effect: Ten lightweight laptops that won't bust your back
A selection of skinny notebooks that put the 'ability' in 'portability'
Lenovo Yoga 11s

The original Yoga 11 ran Windows RT on an Nvidia Tegra processor, but that obviously didn't set the world on fire so a new version, the Yoga 11s, has reverted to full-fat Windows 8 and an Intel chip.
The bendy design that allows you to fold the screen right back and turn it into a large tablet still strikes me as a bit of a gimmick. However, the Yoga 11s is only 16mm thick and 1.4kg in weight, so it still makes a fine Ultrabook for work with the tablet mode available for off-duty web browsing.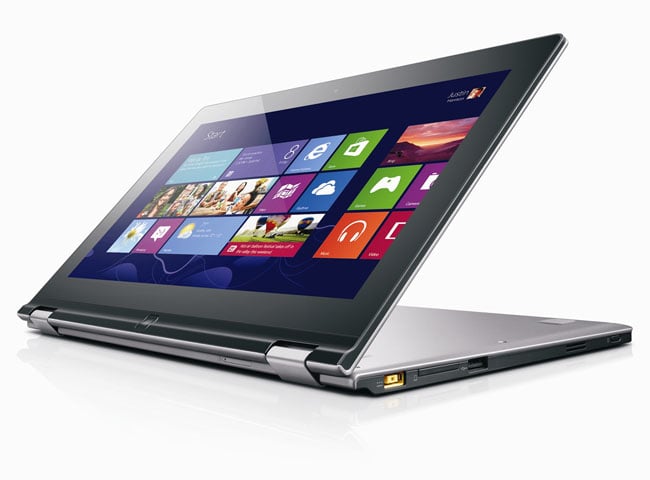 My review unit was priced at £1,100 with an Ivy Bridge Core i7 running at 1.5GHz, along with 8GB of memory and a 256GB solid-state storage. However, a PCMark 7 score of 4299 suggests that the i7 is little faster than the i5 processors used by other laptops in this group, so you should probably save yourself £150 by dropping down to the i5 version of the Yoga.
The built quality is excellent, providing good support for the reversible screen. It also has a comfortable moulded keyboard. Connectivity's a little limited, though, with just one USB 3.0, one USB 2.0, HDMI and headphone for peripherals.
The 1366 x 768 resolution of the 11.6-inch screen is a little disappointing too, but the crisp, colourful image it produces is still very attractive and works a treat for watching streaming video in tablet mode. However, the battery only just scrapes past the five-hour mark when streaming the BBC iPlayer, which suggests that a Haswell update might be a good idea round about now.
Samsung Ativ Book 9 Lite

I rather like the creamy white casing of the Book 9 Lite, and its slimline 17.7mm profile. The case is plastic, but still quite sturdy, and it has a good size trackpad and a comfortable keyboard. The 13.3-inch screen touch-sensitive screen only has a 1366 x 768 resolution and its viewing angles leave room for improvement, but it's adequate for web browsing and watching video.
Battery life is respectable, at around 5.5 hours of streaming video, but the 1.4kg weight listed on Samsung's web site turns out to be 1.6kg on my scales, which makes this by far the heaviest laptop in this group.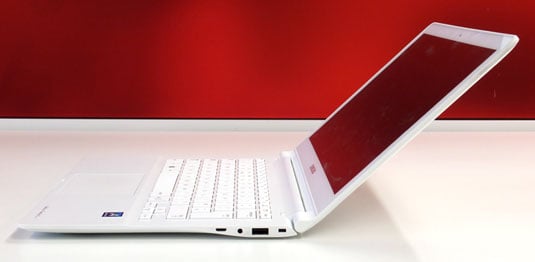 Connectivity is also a bit of a mixed bag. It only has one USB 2.0 and one USB 3.0 port, although I was pleased to see that it does have a mini Ethernet port, for which Samsung includes an adaptor. However, there are no adaptors for its mini VGA and micro HDMI ports, so you'll have to pay extra for those.
Some dogged detective work by El Reg's Bob Dormon revealed that the Book 9 Lite has a quad-core AMD A6-1450 processor running at 1.0GHz, along with a fairly conventional 4GB of memory and 128GB of solid-state storage. A PCMark 7 score of 2170 means that it can handle basic web browsing and productivity apps, but still leaves the Book 9 Lite looking overpriced at £499.